Co-author of our mini-plays series, and queen of all things dramatic, Liz Plampton takes us on a magical mystery tour of her life before and after teaching, and tells us why we should always listen to our mums.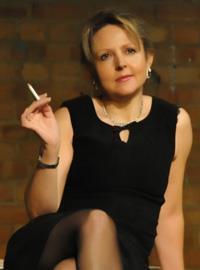 Tell us a little bit about yourself …
I'm originally from south London, and so there's one thing that's always puzzled me about my pronunciation and the phonemic chart, – perhaps this is one for Adrian Underhill – is there an important sound missing on the phonemic chart? Why is it that some people say roll, like David Cameron says 'I'm going to roll up my sleeves and get on with it', or 'Samantha, put some rollers in your hair', for which the sound of 'o' is represented on the phonemic chart as /??/. However, when I say the same word, as in 'roll out the barrel', or similar sounding words like oh and dole, there is no sound on the phonemic chart that represents it. It's always bothered me. Not that I speak really badly or anything, but I just think the chart is lacking, that's all.
Anyway, about me. I never wanted to be a teacher, mainly because my mother always said I should be one. What I really wanted to do was be an actress, probably because my mother always said I shouldn't be one. So, for twenty years I fought off any idea of becoming a teacher and welcomed any opportunities of becoming an actress. In the meantime, I joined the bank! And as life would have it, I met the love of my life (my present husband), and worked my way up to Human Resources in the bank's head office in London.
I was having the time of my life, when I suddenly found out that I was in fact very pregnant with our first son. So, after much deliberation, I decided to give up this career and be a full-time mum. It was now time to concentrate a little more on becoming an actress and I subsequently trained at The London Academy of Music and Dramatic Art (LAMDA), got myself an agent and was very lucky to land a few acting roles. Following the birth of my second son, we decided it would be in our sons' best interests if they were brought up in the countryside, and so we moved to East Sussex where all the nice little village schools are. But how wrong we were!
So, Mr and Mrs Dissatisfied decided to send their children to private school. That meant spending an arm and a leg on their education, but it also meant that I could no longer sit around waiting for acting jobs. We needed money and we needed it NOW! So my good friend, Tim Bowen, who at the time was a teacher trainer at Embassy School, advised me to take this wonderful four-week CELTA course, after which, he said, I could be earning money in next to no time! And so this is where it all started!
After accepting my first teaching job with HELC in Hastings, I would often ask myself the same question – Why? WHY didn't I take my Mother's advice? I asked myself this again and again because, quite simply, I LOVED TEACHING!!! Ten years later, but sadly not younger, and a DELTA qualification to boot, I am now working at Bell International School, Bedgebury, Kent, and am still enjoying it.
'But what happened to your acting career?' I hear you cry. Well, I decided to start a touring theatre company (supported by the National Lottery) which I still manage at the same time as teaching, which has enabled me to exercise my desire for acting both home and away, producing and writing!
In five words, how would you describe yourself?
I'm glad I'm describing myself, as I'm sure my husband would have a completely different opinion! But I would say 'Outwardly innocent, but inwardly knowing'.
How did you start your writing career?
I suppose it all started with my theatre company. I had always wanted to find a play that had good comedic roles for women but it seemed an impossible task – so I wrote one myself and performed it! That was one of my best experiences – hearing other people laugh at so many of my stupid jokes!
Where's the most interesting place you've taught?
I suppose that would be a one-to-one in a young Italian man's flat in southern Italy. When he invited me to teach him at his home, I stupidly thought that Mamma would be there cooking the lunch, but no, it was a bachelor pad and no sign of Mamma! I eventually left having learned more about Italian customs than he had learned English!
What are you most proud of in your teaching/writing career?
I always get a great deal of satisfaction when there is evidence that students have actually learned something I have taught them. But my proudest achievement was when a couple of very naughty teenage Belgian students were sent here to England to learn English. They had been expelled from several schools in their own country and this was their last chance to prove themselves. After a few months of playing around in different levels, and coming close to being expelled again, they eventually ended up in my FCE class. Now they had two chances – respect their teacher and learn something or go back to Belgium. Well, they did go back to Belgium but not before they had passed their FCE! They became my two favourite students of all time. I love a challenge!
What's your most embarrassing teaching moment?
There are many. Most of which I have put firmly to the back of my mind! But I can think of one without too much trouble. It happened during a DELTA observed lesson. One of my students happened to suffer from Tourette's syndrome. Of course, I had no reason to worry, I had mentioned the fact in my lesson plan, and anyway, this student had never caused a problem before. However, today was different. Very different. Upon eliciting the required information from him – not wanting to leave him out – instead of answering the question in his usual fashion, he suddenly exhumed a torrent of swear words from somewhere deep within himself. After this cathartic experience he looked very pleased with himself but, unfortunately, this was not really the answer I was looking for. Everything went quiet, I looked over at the examiner who looked rather shocked. It certainly wasn't your run-of-the-mill DELTA exam!
What's your favourite joke?
I used to know a whole host of jokes, but there's one that readily springs to mind.
Essex Girl joke (or wherever you want it to be):
It's late on a Saturday night and a girl is lying face down in the gutter, bleeding profusely.
A paramedic arrives and says,
'Where are you bleeding from?'
The girl replies,
'Essex.'
What are your top tips for teaching/writing?
When teaching, don't take yourself too seriously and never be afraid of laughing at yourself if you get it wrong! If you can laugh at yourself, then students can laugh at themselves too. In my opinion, this creates a relaxed learning environment where students can experiment with language and mistakes are acceptable.
In class, always find something amusing to say, that makes your students laugh – perhaps a funny example of a language point or vocabulary to help them remember it, but always personalize it so your students can relate to it.
When writing, draw on personal experiences and stories which other people/students have told you. If you haven't any, go out and find them.