Jamie is an exuberant Scot with a seemingly endless supply of original and imaginative teaching ideas. Here he tells us a bit about his career as a writer and English teacher.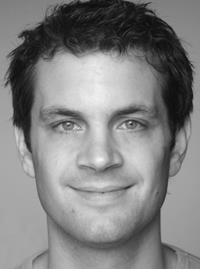 Tell us a little bit about yourself ...
I grew up in East Lothian in Scotland. I did a science degree in Aberdeen and then decided that I wanted to be a musician. After four long indulgent years which were spent studying music at Leeds, I started working on a ship. Well, I was playing piano every night and practising during the day, and I must have overdone it because I got tendonitis in my arms. I had to stop playing for six months and during this time decided to do a TEFL course in Barcelona. I stayed there and started giving private English classes. I think it was a blessing in disguise because I've never looked back. I have also worked as a teacher trainer at an English school called Active Language in Cádiz in the south of Spain.
In five words, how would you describe yourself?
Hard-working, scientifically-minded, obsessive, male, mammalian.
How did you start your writing career?
I started writing as soon as I started teaching. Following any class in which my students (or myself) were left confused by the day's language point, I would prepare a handout for our next meeting which would attempt to clarify things. I still have all of these on my computer and I can tell you that if I ever read them now, they make me cringe. I don't know how much they helped my learners but they really helped me. You see, I passionately believe that writing is a natural extension of teaching. It forces you to think and consolidate ideas about the subject and the methodology. This, in turn, allows you to develop professionally. All teachers are potential writers and no practising teacher should ever think that he or she is not qualified to write.
What's the most interesting place you've taught in?
I'm going to tell you about the most difficult class I've ever had instead. After teaching for a couple of years, I became self-employed and started looking for some meaty contracts. Well I thought that I had landed one when a new business school (I won't say where it was) hired me to give English classes to everyone – both staff and students. It turned out that their principal interest was to save money and I was expected to teach everyone at the same time, once a week. This took the term 'mixed-ability' to a new level. In my class I had four young Belgians who spoke English better than me, one Spanish girl who was an absolute beginner in the truest sense of the term, and about ten young Indian men with a fairly good level of English but who were in need of pronunciation improvement for practical reasons. Only one member of staff attended the classes – the cleaner!
What are you most proud of in your teaching and writing career?
I feel very proud of my students Marta and Roser. They are doctors and decided last year that their English was good enough to travel to Sierra Leone on a Médecins Sans Frontières mission. My proudest moment as a writer is having a website I authored shortlisted for the ELTons awards.
What's your most embarrassing teaching moment?
My most embarrassing moment involves a computer screen and a rude surprise. It quickly taught me how vital it is to ensure that your Google image search filter is switched on.
What's your favourite joke?
It's got to be the baby gorilla joke:
A man finds a baby gorilla alone in the street and decides that the best thing to do is to take him to the police. The chief police officer takes one look at the baby gorilla and tells the man that the best thing he can do is to take him to the zoo. A week later, the same police officer sees the man in the street. He is still with the baby gorilla. The police officer is a bit confused and asks the man why he didn't take the baby gorilla to the zoo. The man replies, 'I did take him to the zoo and today we're going to the cinema.'
I love this joke: It surpasses all cultural boundaries, it isn't rude so you can use it in the classroom, it is popular with children and adults and it is the perfect length. Did you know that according to Laughlab, an experiment that was carried out in 2002 to find the world's funniest joke, jokes that contain 103 words are the funniest? The baby gorilla joke comes quite close to that.
What are your tips for becoming an ELT author?
First of all, decide what you would like to write. If you can't think of anything (a very common situation), here are some ideas:
Do you have an original lesson plan that works well for you? Write this up in the way you would see it in a course book.
Perhaps you have a personal variation or improvement for a standard classroom activity. This could also be written up as a lesson plan or as an article.
We all have our own ideas about methodology. Think about this next time you are teaching. What did you have to learn for yourself? Could you write a short article that would help novice teachers?
The best articles start with the smallest ideas and ELT conferences can be good breeding grounds for ideas. Go and see a good speaker and then make some notes afterwards. Perhaps you ardently disagree with something they said. Or perhaps they were inspirational and made you think of your own original ideas.
Similarly, there are a lot of good ELT discussion groups. Go on one of these, get inspired or infuriated. Write a posting and then consider how what you have written could be turned into an article.
Write a book review.
The second thing is to decide is who or what you are going to write for. Don't be motivated by money. Here are some ideas:
Start a blog. Here is mine: www.jamiekeddie.com
Get hold of magazine/website editors' names and emails and send them your work.
Publishers are always looking for new authors. But, they generally have an idea of what they want written and this means writing to all sorts of specifications. If you like the idea of this, find out who the best people to speak to would be and drop them a line.
And finally, some random pieces of advice:
It is better to give away your good ideas for free than to keep them to yourself and do nothing with them.
Once you start writing, more ideas should come along. Keep a notebook.
Don't expect your life to change after you have had your first article or lesson plan published. It takes time, patience and hard work.
Rejection is an inevitability. Don't be scared of it.
Don't try to include too much in what you are writing. For lesson plans, always consider aims. For articles, consider what you want to say and decide on the best way to say it as concisely as possible.
Don't ever aim for perfection in what you write. Perfection is a detrimental idea in such circumstances. Aim for excellence.
Find a friend that is good at giving advice and willing to read over what you have written. Hope for criticism and not praise.
Every piece of work needs a deadline (or it won't get done).