Frances Marnie, author of our ESOL series Absolute Beginners, tells us about her romance with the French capital, the rich melting pot of cultures she discovered in a small town in Scotland and why helping her students negotiate their daily lives is endlessly fulfilling.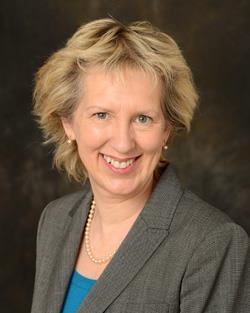 Tell us a little about yourself
Like many of my colleagues, I fell into the world of TEFL due to a combination of circumstances. It really all began with my love affair with Paris …
I was born and grew up in Dundee, Scotland. At the age of 17 I took a gap year in order to work as an au-pair in Paris. Whilst hating the job, I was enchanted by the city. I honestly felt as if I had come home – and so I determined to make it my home. In 1983, I did the TEFL certificate before setting sail for France. I didn't have a job lined up but I did have friends who were willing to put me up, and put up with me, until I found one.
Within a couple of weeks I had enough sessional work to be able to survive independently. At this point, I was still more interested in location than in vocation. That changed, however, over the years. I worked in various places in Paris and started spending summers doing teacher training at Pilgrim's in Canterbury. I had the great fortune to count amongst my colleagues and friends people who are inspirational, creative, passionate and generous teachers.
In 2002, I returned to Scotland and discovered the world of ESOL. For the first time in my career, I had students who were complete beginners. I found the challenge daunting but the rewards immense. I now have my own company – ELT Services. My time is divided between running intensive training seminars, working at a language school in Aberdeen and teaching a group of beginners at a local community centre. Naturally, I also take time out to enjoy other aspects of life!
How would you describe yourself in five words?
Always worrying intensely about something.
How did you start your writing career?
There were two stages.
Firstly, I've counted writing as one of my hobbies for many years but never thought of approaching publishers until urged to do so by a friend in the EFL publishing business.
Secondly, every time I had a student who was a complete beginner I was astonished at the lack of teaching materials available. I couldn't find a course that addressed the absolute basics of the language, went slowly enough, incorporated enough revision and went at a suitable pace for ESOL learners who only had limited contact with English. I'd discovered a gap in the market!
Where's the most interesting place you've taught?
A few spring to mind! However the place which opened my eyes the most is the community centre in Methil, which is a small town in a deprived area in Scotland. I was surprised at the number of Pakistani, Philipino and Chinese people living there. Learning about their lives and culture was a real revelation to me.
What's your proudest teaching moment?
Nothing beats the feeling of having helped make a difference in somebody's life, so my proudest teaching moments are related to that. An example is a student whose eyes were shining with glee as she told me that she had managed to take a bus ('me only!') to come to class. Her confidence in negotiating the potential pitfalls of taking public transport was now such that she was planning a bus journey to visit her sister in Glasgow.
What's your most embarrassing teaching moment?
My attempts at illustrations on the board are a constant source of both embarrassment and amusement. How can the end result differ so much from what is in my mind's eye?
Also, I still cringe when I think of insensitive comments I've made, inadvertently, in class. I'm too embarrassed to reveal more!
What's your favourite joke?
I have a terrible memory for jokes so I prefer the short ones, like this one:
Did you hear the one about the oyster who went to a disco and pulled a mussel?
What are your tips for becoming an ELT author?
Having read the other Macmillan authors' tips, I'm not sure that I have anything to add. The following points are the ones that particularly resonated with me:
Keep teaching – real learners and classroom situations can differ greatly from theoretical ones.
Enjoy the writing process.
Ask for and listen to feedback from people whose opinions you respect.
Get yourself known – use networking opportunities to the full.
Accept that constant redrafting is a necessity.