Long-term project work can be extremely rewarding for your English class and a theatre production may be ideal. Daniel Barber shares some valuable tips on putting on a play with your class.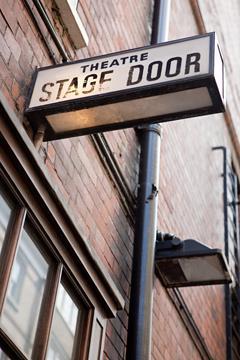 In a theatre production students will have the opportunity to practise a variety of skills. They will:
read the play first to understand the plot and the characters
discuss the production and make decisions
memorize chunks of spoken English
listen to others performing so that they know when to say their own lines
As well as considerable language input, theatre combines a tremendous sense of teamwork and the satisfaction of putting on a show for others to enjoy. Performing in English in front of an audience is a real buzz and can help boost confidence. Think of the potential rewards for you too – enthusiasm and excitement among your students, huge job satisfaction and – hopefully – flowers at the final curtain! This article encourages you to go for it but also to think realistically about the practicalities. So here are a few uestions to consider before you commit.
Commitment and timescale
A decision to put on a play will mean hours of preparation and inevitably higher stress levels for you. Even if you see your students for several hours a week, you will likely need time outside class for rehearsals and other aspects of production. Will your students be able to devote precious time to this? And when and where will rehearsals take place? I recommend establishing regular rehearsal times to make them part of their routine.
If you start the project now, how long will it take before you are ready to perform? You may be looking at a term's, or even a whole year's work to get 'from the page to the stage'. I suggest that you study the play first in class before you propose a production; you can gauge interest in its themes and it will make the project less daunting. Check with the director of your school that they are happy with the plan and consider sharing the workload with colleagues.
The play
There are many great theatrical works out there but not all will suit your class. First of all, are the content and themes appropriate? Also, consider the fame of the play; there is cultural interest in plays in their original version if they are already well known in the learners' first language.
And what about language level? You should not expect pre-intermediate-level students to tackle a script designed for native speaker actors, of course. The good news is that there are many graded plays available at different levels, which not only simplify the language so that it is easier to understand, but they also modernize old-fashioned texts so that the lines are in a register the actors are likely to be able to use in their everyday English language lives. Macmillan has the following graded titles:
Pre-intermediate - Romeo and Juliet, A Midsummer Night's Dream
Intermediate - Much Ado About Nothing, The Merchant of Venice, Hamlet
Upper Intermediate - The Importance of Being Earnest, Macbeth
You can find an audio serialization of The Importance of Being Earnest on onestopenglish, complete with accompanying listening activities and transcripts.
Please note that you will need to obtain permission in order to perform plays based on Macmillan Readers. You can do this by filling in a form which can be found here.
Audience and venue
Who will the audience be and where will you perform? If you teach in a large school, you may have a large enough space. Do bear in mind practicalities about the venue such as fire regulations and insurance, though. The school's pupils could be the intended audience, but remember that a certain level of English is required by these theatre goers, so you might be limited to promoting it among the more advanced classes or older students. If your students are teenagers or young adults, parents and friends will want to watch them perform, even if they don't speak English! Consider providing language support in the audience's mother tongue, such as a plot summary or glossary of important words.
Roles for everyone
The great thing about a play is that everyone has something to do, from lead roles to painting the set. Crucially, you should offer each person a choice in what they do and not assume that just because a student is an extrovert in class they will make a great actor or that a shy student necessarily wants to hide backstage. Offer the various jobs, collect interested names and carefully consider how to allocate roles fairly.
Actors: Auditions will really help to determine the best actors for each role. We suggest you ask those interested to learn the same short passage from the play of about 100 words to perform in the audition; you can then not only compare acting skills but also dedication – how well did they learn their lines? Lead actors will need to be good performers with the strength to 'carry the show', but crucially they must be willing and able to attend all the rehearsals.
Minor acting roles suit students who cannot commit as much to the preparations, whose acting ability is not as good or whose English level is not as high as the others but who are keen to appear on stage.
There are various other roles you can consider for the students. Some of your students may have little desire to act but have important skills they can use to make the production a success. Remember, the whole production can be an English project, conducted using English as the main language, to ensure that all the students, not just the actors, get to practise their English.
Here are some of the roles you might include:
Director: Although typically this is the teacher, it doesn't have to be, and with a motivated, well-organized and authoritative budding James Cameron, you could be left to take a more back-seat role as 'Producer'.
Technician: Students with techy interests may enjoy the responsibility of lighting, sound, special effects and so on. Even modest, low-budget shows can be dramatically improved with atmospheric lighting and simple sound effects. They will first need to consider resources at their disposal and where they can go to get any necessary equipment.
Set design: This will suit artistic types. Less is often more here and a lot can be suggested by just a few simple props and other touches.
Costume and make-up: Most amateur productions tend to improvise costumes from what is available in people's wardrobes but someone with creative flair will be able to transform everyday wear into theatrical costume.
Musical director: Keen musicians may wish to provide the score or soundtrack for the play.
Understudies: Allocating students understudy roles – that is, learning other peoples' parts so that they can perform if those people are ill – is a good way to ensure no disasters on the night and it gives more students a chance to act, especially important with larger classes. These people should have other backstage roles to ensure that they contribute on the night.
Production management: There are many other jobs to do, from booking the venue to promoting the play. Giving a competent student the role of production manager will mean you are not solely responsible for fretting about all these things!
Front of House: Who will take people's tickets and give out programmes? Is there an interval, and if so, do you want a bar providing drinks and snacks?
The teacher's role
In an ideal world, your students would do everything, with you just dealing with enquiries, adjudicating in tricky decisions and occasionally offering advice and suggestions. The reality is that you will likely be doing a great deal of the work. You should therefore try to delegate as much as possible to them, not just for your own sanity but also because the more they give, the more they will get back from their production. Directing theatre is about getting the story told well by the actors, one aspect of which is getting meaning across to the audience. Clearly, as English teacher, one of your primary concerns is linguistic and drama provides your learners with language intricately connected to meaning. One important role for you should therefore be in coaching the actors in the delivery of their lines – their pronunciation, stress and intonation, for example. How about calling yourself the production's 'Language Coach'?
Getting help
Finally, if you are interested in putting on a play, I strongly recommend that you do some research in order to anticipate as many potential problems as you can before you begin. That way, there won't be any nasty surprises. There is lots of advice on the web for theatre productions – try searching 'putting on a play' and 'amateur dramatics'. And if you do go ahead with your production, the onestopenglish team would love to hear about it!
Good luck, or as they say in the theatre, 'Break a leg!'
Daniel Barber