Director of Assessment and Evaluation, Liying Cheng, and Associate Professor of Language Assessment and Testing, Janna Fox, look at how teachers can make more of assessment in the classroom.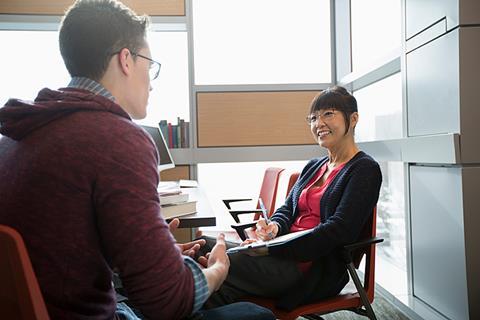 Introduction
Like you, we are teachers. We both began our careers teaching English to students whose first languages were not English. We taught many of these students in Asia, the Middle East, Africa, and North America, navigating our way through the teaching, learning, and assessment of our students with little guidance from theory or resources. Over the years, we became increasingly sensitive to the negative influence and consequences of ill-considered assessment and testing practices. Although we could increasingly find resources on language teaching methods, strategies, and techniques, very few of these resources provided systematic and coherent support for our day-to-day assessment practices. There were no ready answers to our questions in the research literature either – researchers tended to write for other researchers, and their findings, although interesting, were not readily applicable in our classrooms. Years later, our long-term interest in assessment led us to teaching courses to pre-service and in-service teachers: helping them to support their students' learning through sound assessment practices. This thread has centrally run through our work. Again, we searched for resources that could answer the questions and address the issues arising in the classroom; we realised that the narrow scope of resources on classroom assessment rarely moved beyond test design and test analysis, and was more appropriate for large-scale testing than for on-going classroom assessment.
In the present educational climate, we are continually faced with complex assessment issues. For example, there is a great deal of discussion now about alignment as a guiding principle for high quality assessment: that is, the degree of agreement amongst standards, curriculum, learning outcomes, assessment tasks (including tests), and instruction. Alignment, validity, reliability, fairness, consequences, and practicality are viewed as central aspects of assessment practice that supports learning.
The alignment of learning goals, assessment, and classroom activity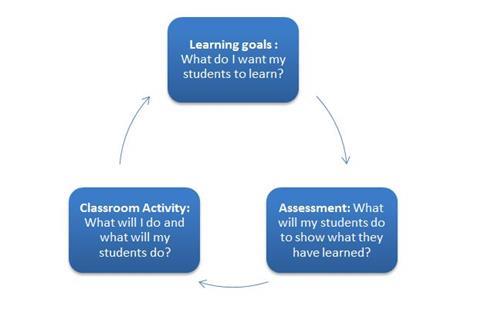 Figure 1
Figure 1 depicts assessment practices three-dimensionally and asks us as teachers to revisit our own classroom practices. Think about what it means to us in achieving instructional goals through teaching and assessment. In the center of this triangle is our students' learning. The first question we need to ask relates to the learning goals we have for our students: What do I want my students to learn? What do I want them to know, value, and/or be able to do as an outcome of my teaching? Moving to the next question in Figure 1, on assessment, we need to ask how we will monitor and evaluate learning ­­­– or what information is essential in order to determine whether our students have met or exceeded the required expectations: What will my students do to show what they have learned? Given the evidence that we plan to collect during a course, we then need to identify the actual classroom activities that will support our students' learning and development: What will I do as a teacher, and what will my students do as learners?
Assessment serves as the key to check on learning, providing essential information to teachers. This is an on-going, iterative, and cyclical way of supporting learners through assessment and teaching. In this sense, teaching and assessment are one integral and interconnected process. Teachers need to constantly ask themselves: Have my students learned? And how well have they progressed as a result of my assessment practices?
Assessment of, as, and for learning
For teachers to support student learning through assessment, teachers need to engage themselves as well as their students in the discussion of assessment of learning, assessment for learning, and assessment as learning. We argue that it is inaccurate to view assessment only as judgments on learner progress at the conclusion of a unit of teaching and learning. Rather, it should also be viewed as a way of obtaining evidence for where students are in reaching their learning goals and what they need in order to progress towards these goals. Assessment as learning puts the focus on the students themselves taking responsibility for their own learning through self and peer-assessment, monitoring their own progress toward their goals and employing strategies for achieving them. We know that alignment and assessment of, for, and as learning ultimately empower our students' language development.
Our recent book, Assessment in the Language Classroom, is designed to view assessment three-dimensionally, empowering teachers' effective assessment practices. This book is directly informed by our own teaching experience and the research we have conducted over the years. Written by teachers for teachers, it bridges the gap in our assessment resources, offering an accessible teacher-informed book that explains complex concepts and addresses the fundamental questions about assessment that teachers encounter as a result of their day-to-day classroom experiences:
Why do we assess?
What do we assess?
How do we assess?
How do we develop a high-quality classroom test?
Who are we assessing? Placement, Needs Analysis, and Diagnostics
Who are we assessing? Feedback and Motivation
When we assess, how can we use assessment to move forward?
Liying Cheng, Queen's University
Janna Fox, Carleton University
Learn more about assessment in Assessment in the Language Classroom by Cheng and Fox. Download the sample below, to read the first chapter. To find out more about the book, and to buy to copy, click here.
Downloads
Click link to download and view these files
Applied linguistics for the language classroom
1

2

3

4

Currently reading

Applied linguistics: Empowering language learning through assessment

5

6