Lesson Share
Our Lesson Share competition has launched several successful writing careers. Why not raise your profile by being published on onestopenglish?

The best lessons are created by teachers, for teachers. The onestopenglish Lesson Share competition gives you the opportunity to share your ideas with English teachers across the globe.
If you've designed a lesson that has worked well with your students, then why not share it? It can practise any number of skills or be on any topic (as specific or as general as you like). The possibilities are almost endless! Check our guide on how to enter, including our all-important rules and conditions, here.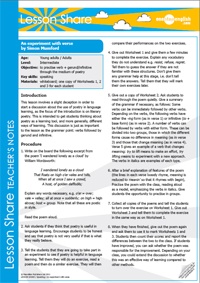 We pick a winning lesson each month. The winner's prize is a professionally edited and designed lesson plan on onestopenglish. Winning lessons are presented in a stylish, customized template so that you can proudly show off the first step in your writing career to your fellow teachers and students. On top of this, winners can choose a title from the Macmillan Books for Teachers series for your bookshelf.    
Need more reasons to enter? We've published some fantastic lessons and the Lesson Share competition can be a great way to motivate teachers when incorporated into your teacher development programme. Read what Paul Ashe, Head Teacher of Academia Blue Door, has to say about his experiences with the competition.
And don't miss our inspiring video below in which some of our authors talk about writing for onestopenglish and Lindsay Clandfield explains how the Lesson Share helped get him where he is today!
Check out the latest winning entries!
Mike Furber wins the Lesson Share competition with this science-based activity.
Looking for some inspiration?
Jamie Keddie, Lindsay Clandfield and Adrian Tennant talk about writing for onestopenglish.
Inside Lesson Share
Find out what you need to do, what we expect from a winning lesson and read our rules and conditions for entry.

The full bank of winning lesson plans for you to download, categorized according to a range of different skills.

Short activities which can be used to fill 15 minutes at the beginning, middle or end of a lesson.