Brian Boyd, author and creator of Grammarman, reveals all about the origins of his correction-crusading superhero and life in bustling Bangkok. He also admits that although he's a master illustrator, drawing diagrams on a whiteboard isn't necessarily his strong point!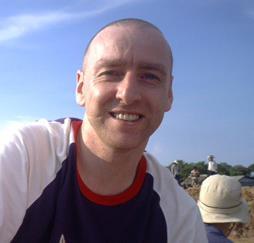 Tell us a little bit about yourself
I live in Thailand, where I teach English full-time. The Land of Smiles has been my home for eleven years. I recently realized that I've spent more of my life living in Thailand than in my home country, Ireland. The people here are the kindest, friendliest, most respectful and most fun-loving people I've ever met.
Just over seven years ago, I created the Correction Crusader, Grammarman. The Grammarman comic and website have become a major part of my life now, connecting me with lots of interesting people I might not otherwise have met and taking up a huge portion of my free time. Grammarman conveniently combines elements of a lot of things I love: comic books, computers, teaching English, drawing, devising puzzles, games, riddles, etc., making teaching resources and writing stories. So although Grammarman often feels like a second full-time job, I enjoy it all so much that it never feels like work.
In five words, how would you describe yourself?
I'm … lucky, grateful, passionate, imaginative, happy.
How did you start your writing career?
I've been writing and drawing since I can remember. I would spend a whole afternoon drawing a comic and then sell it to some kid in my street for pocket change. That was in the days before photocopiers so I could only sell each comic once.
My first real published book was The Mathemagician's Apprentice. I had an idea for a book and accompanying computer game that was aimed at helping Key Stage 2 students (7-11 year olds) to learn their multiplication tables. I had a chance to pitch the idea while I was working for a small educational publisher called TAG Learning. They allowed me to write it, illustrate it and design the computer game. I think it's still available on Amazon but the computer game was clunky and basic even back when it was published more than a decade ago. We made a second one called The Treasure of Fraction Island which had the same concept.
Where's the most interesting place you've taught?
It doesn't get much more exciting than Bangkok. The city is full-on, really worth a visit. Thai students are great fun to work and study with, and my classes seem to be getting more and more international in recent months – I teach students from South America, The Middle East, Europe and other parts of Asia – which makes for a great classroom atmosphere.
What are you most proud of in your teaching and writing career?
I'm proud to be considered a good enough teacher to work at the British Council. I've met some very good friends and worked with a lot of memorable colleagues.
When I presented a copy of The Mathemagician's Apprentice to my father, he told me how proud he was. That meant a great deal to me. More recently, my mother emailed to say how proud she was to hear that my comic would be appearing on onestopenglish. My parents are my greatest teachers and my heroes.
What's your most embarrassing teaching moment?
It involves a picture I'd drawn on the whiteboard, but I can't for the life of me remember what it was I had intended to draw. Anyway, I was blabbing on to my adult general English class about whatever I'd tried to illustrate on the board behind me and I became increasingly aware of nudging, sniggering and pointing. Eventually I turned back to the board and was horrified to see that whatever I'd meant to draw looked more like a penis than anything else. I should have acknowledged it and laughed it off but I panicked and tried to carry on as if I hadn't even noticed. What followed was like the sniggering gladiators scene from The Life of Brian. I think I ended up calling break about twenty minutes early just to get out of there.
What's your favourite joke?
It's a pair of jokes:
How do you catch a unique rabbit?
Unique up on it.
How do you catch a tame rabbit?
Tame thing. Unique up on it.
What are your tips for becoming an ELT author?
I'd say … Make writing a daily habit and try writing things you don't usually write from time to time. Write for the right reason. Constantly look for ways to improve. Find a friend who can be relied upon to give you honest, helpful feedback on your writing. Get your work online so that people can see it. Share it from your website, blog, Facebook page or on ELT forums. Finally, if you're someone who often talks about writing something 'one of these days', how about this day?