A practical CLIL dictionary containing key subject vocabulary, interactive illustrations and study skills material.

The Macmillan School Dictionary is a fantastic resource for teachers and students who are teaching and studying a wide range of subjects through the medium of English. It explains the specific vocabulary needed for successful study in any of the key school subjects. Words can be searched for alphabetically or by topic and definitions are written using a vocabulary of 3,000 words that are easy to understand.
Illustrations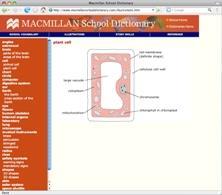 Over 35 interactive pictures and diagrams can be used to help students learn and practise vocabulary. All illustrations are available with and without labels.
Study Skills
Provides hints and tips for helping students to plan, prepare and present their work. The areas covered are:
Capital Letters and Punctuation

Information Communication Technology

Revision and Examination Skills