Vincent Van der Sluis offer his thoughts on living and teaching in the land of mountains, cheese and chocolate.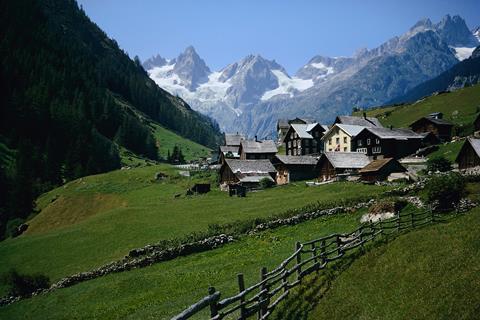 Switzerland has always been known to be a haven of peace and neutrality.
The population of Switzerland is approximately 7.000.000 inhabitants with the capital being Bern. Bern is the German word for 'bear'. There is a bear pit not far from the heart of the city where you can see real bears and even feed the rascals - they seem to have taken a liking to it.
This is a small country with small cities but a very lively rural population. Most of the bigger towns and cities are easily accessible because of the proximity of the small villages, the world renowned train system and the world's most dense motorway (highway) system.
Zurich is the biggest city in Switzerland and is the most expensive city in the world just after Tokyo. Geneva, the city of Calvin's Protestant Reformation, is home to many NGO's (Non Government Organizations) such as the United Nations.
The strength of Switzerland is the security, peace and discretion that can be found there. Vestiges of the past are the Vatican's Swiss guard, a neutral international policy - strong currency and an army which requires every able man to be armed, AT HOME!
It is a wealthy country and salaries are relatively high. There are many foreign investors as Switzerland is a tax haven. The prestige of the secret Swiss bank account has driven many honest AND dishonest people to store their money there. At present, however, there is a considerable amount of pressure on Swiss banks on the part of the European Community to do away with the whole notion of secret bank accounts.
However, there are also negative aspects: scandals concerning frozen Jewish bank accounts after WWII and a scandal uncovering Swiss financing of the South African Apartheid regime has put a damper on what has often been considered as an innocent and pristine nation. On a more personal level, foreigners find it difficult to integrate into this society which tends to be quite affluent and self-sufficient.
Stereotypes abound when one thinks of Switzerland: the Alps, fondue, (Toblerone) chocolate, cheese, yodelers, alp horns, Heidi, cow bells, etc. These are all anchored in Swiss culture but this country has produced and still produces many quality products and innovative ideas in the fields of architecture (Le Corbusier), food and beverage (Nestlé), watches (Swatch, etc.), pharmaceuticals (Novartis and Roche), to mention but a few of the most popular successes.
The education system in Switzerland is excellent. Class sizes tend to be smaller than in other countries and seeing that village life is still a priority, it is not uncommon to find a school in a small village of under 500 inhabitants. In the inner cities and even in smaller towns, violence is becoming a significant issue.
Much pedagogical research has come out of Switzerland thanks to people like Pestalozzi, Piaget, etc.
It is difficult for foreign teachers to find employment in Switzerland because of:
immigration restrictions, which are loosening up for Europeans
protectionism
the difficulties foreigners have in obtaining equivalencies for foreign diplomas/certificates.
Whereas public school teachers have comfortable salaries, most private school teachers have relatively low salaries and are often obliged to teach in several different schools in order to make ends meet. Usually this means a 30 hour working week.
The Cambridge examinations are quite popular among Adult students. Many take up English in order to obtain some type of certification. The diplomas that one obtains are very useful on CV's.
Many foreigners come to study at top-notch International schools where English has a prominent place. You can consult some of the best at this site: http://www.global-education.ch/category/global-education/
In general, the Swiss have a knack for languages given that they have four official languages: Swiss German, French, Italian and Romansch and a very popular international working knowledge of English. This makes for excellent international communicators and very eager students of English.
One of my favourite experiences was a one-on-one assignment to a young adolescent. He was the son of a foreign ambassador's bodyguard. I was supposed to teach him very basic English but when I first met him, it dawned upon me that he only spoke a North-African dialect of Arabic. Although being competent in several languages, I have no communicative knowledge of Arabic. That was a fun experience and one in which I was able to use innovative ideas to enhance the lessons.