Catherine Zgouras is a Cambridge examiner and teacher trainer who runs her own foreign language school in Greece. A two-time lesson share winner, Catherine explains her move into the world of ELT and what motivates her when writing a good lesson plan.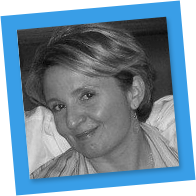 First of all tell us a bit about yourself and your career in ELT (How long have you been involved in teaching? What ages/disciplines have you taught?)
I studied Literature / History / Modern Greek at Sydney University and then went on to get my Diploma of Education with an emphasis of teaching foreign languages from the same university. I moved to Greece about 20 years ago and opened my own foreign language school which I still run and teach all ages from 6 to 56 and all levels. I am also an Oral examiner for Cambridge and have trained a few teachers in the past.
Why did you first decide to enter the lesson share competition?
I have so many resources I've made for my school stored on my computer and thought that sharing them would give me an idea if they would work globally.
How has the experience of winning lesson share helped you as a teacher?
It has helped me write better lessons actually. It's like I now have a bar I cannot go under. I always wonder if what I've written would receive another award so it is ruthlessly judged by myself and then the students, who are always (brutally) honest. :)
Have you continued to write ELT resources since winning the lesson share competition and what advice would you give to someone who is interested in writing a lesson plan for the lesson share competition?
Yes. I have written 2 Teacher's Books, A Primary Course Book, 2 Intermediate course books (CLIL/ Grammar lessons) and am editing and writing for many different publishers. I hope to make editing/writing a full time job soon because it's a discipline that inspires and motivates me. Although it is quite challenging to come up with work that is both new and globally approachable, it is refreshing and motivating.
Writing a lesson is usually motivated by the following three thoughts:
Why didn't I think of that?
I can write better than this
This could have been better if…
As soon as these phrases surface after you've seen a resource, think about what innovative measures you'd take, try them out in your classroom and then write your own lesson or rewrite the original resource. If you aren't happy with what you've produced, write it again. Remember that we can never perfect our lessons, so don't doubt what you have developed. Most importantly, have patience. I've sent in about 5 different lesson share entries and have won only two but that hasn't stopped me from making more - on the contrary it has made me go back and improve my work.
5. What do you like most about onestopenglish?
The winning lessons. I learn so much from the interesting and diverse approaches teachers from around the world take to produce a well-rounded and satisfying lesson.