A huge fan of role-play games and popular culture, Balint Gyimesi has worked in ESL for nearly ten years. A double lesson share winner, Balint gives us an insight into his twin loves of teaching and writing and how these have helped him win lesson share.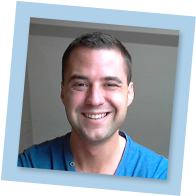 First of all tell us a bit about yourself and your career in ELT (How long have you been involved in teaching? What ages/disciplines have you taught?)
I've been an ESL tutor for nine years and now and as I look back at this long journey I have to say that I'm extremely grateful to my father who pushed me to choose this profession. I've always considered myself to be a facilitator and not an instructor whose job is to create a realm of cognition for students and invite them to take part in great adventures to master the language. Questing in the land of English has been fun so far!
I started with language exam preparatory courses for adults and I still remember how nervous I was when I first entered the classroom. Of course, I was equipped with many theories and was taught what to do but when I saw students looking at me I realized that this was not going to be an easy ride. It slowly dawned on me that no matter what I read about trends in ELT I should pick those ideas which suited my teaching style and personality the best. I understood that I shouldn't be afraid of being myself as my anxiety about living up to the expectations of playing a role that is not me would create a distance between the students and me.
I've been a huge fan of popular culture ever since I was a kid so I started to integrate my interests into my teaching. I played RPG games for a long time so creating imaginary lands and people was really something I've always felt familiar with. I've also been exposed to new, creative ideas through the vast amount of comic books, cartoons, computer games and movies I've consumed. This helped me a lot when I first created my own materials although I needed much experience until I fully understood the mechanisms of an English class. The trial and error approach has helped me improve my lesson plans, however there is much to learn and explore!
Later, I worked for a university's International Studies Centre for many years and taught general, business, medical and academic English. I really enjoyed teaching in an intercultural environment. I found material and content development extremely useful to bridge the gap between different learning and teaching styles students are used to. Asian students are very interesting to work with but there are many obstacles to overcome. Writing lesson plans and customizing content in order to be more comprehensible for them was great fun too!
Currently I'm working as an online ESL tutor and this is a completely new experience for me. Although I'm mostly accustomed to classroom teaching, I have to say that online language training is really rewarding and a lot of fun. I love it and the great news is that I continue to teach Asian students so I can satisfy my interest in their culture. Not to mention the fact that this is my first time teaching kids! Working with children is great so robots and princesses come forth!
Why did you first decide to enter the lesson share competition?
Designing activities calms me so I often do it in my free time. I think I understand what makes a low anxiety and efficient class and write the plans accordingly. Some of the lesson plans I came up with proved to be very successful and had been in development for years. I create the images I use and sometimes write quite long background stories to them. I polished them until I thought they were ready and wrote some articles about them to get published in ELT for the first time. When I saw how much teachers loved them and after some serious players in the field shared them on social media I decided to give the lesson share competition a try. I won with the first lesson plan I submitted and I was extremely happy! I couldn't believe my eyes when I opened my inbox and read the email about the result. When I won for the second time I decided to win the competition once more and I've been working towards this goal. I love challenges!
How has the experience of winning lesson share helped you as a teacher?
Being a winner has made me more confident as a professional and proved that I'm on the right track. It also helped me on the job market because it is an excellent reference. In addition, it helped me understand that I'm good at writing and I would like to work as a content developer someday. Getting published is a great feeling and I want more of it. Of course, I would never quit teaching!
Have you continued to write ELT resources since winning the lesson share competition and what advice would you give to someone who is interested in writing a lesson plan for the lesson share competition?
Sure I have! I really enjoy unleashing some creativity and I have great plans for the future. To me, the fun factor in writing resources is addictive I guess. Who knows? Maybe I'll have the chance to write for a publisher on a regular basis one day. I'd be very happy about it!
First of all, if you are into writing materials for ELT then don't hesitate. You haven't entered the competition yet? Why not? Give it a try and you'll see how awesome it can be. Secondly, don't take yourself too seriously. Just be yourself and believe in what you do and most importantly believe that your lesson plan is great. Your plan should be flexible and easy to modify in case of any unforeseen situations in class. Also, don't forget that you write it for others so it should provide comprehensible instructions on how to proceed. Originality is also very important and you should keep in mind that your plan has to have a clear objective.
What do you like most about onestopenglish?
I love the amazingly wide range of activities and the great variety of supplementary resources the site offers. Basically you can find anything you need to do some quality teaching. My personal favourite is Grammarman of course!