Tom Walton shares his tips and tricks for creative story-writing using edu-tool Edmodo.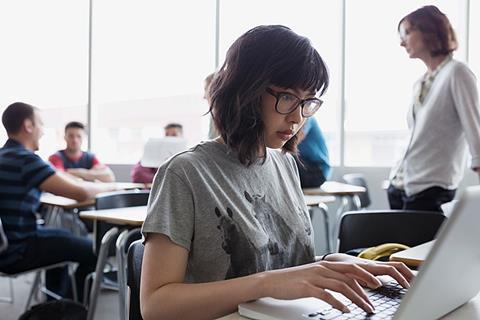 Lesson plan information
AGE: Edmodo is possibly most suitable for teens (though they might prefer to use Facebook!). You could certainly also do the lesson with adults, but with them a private Google+ community might be better. I'll look at that in a separate lesson.
LEVEL: Any class in which you are teaching or revising irregular simple past forms and (optionally) past perfect forms (A1–A2). You can, however, take the lesson suggested and use it at any level, right up to C2.
TIME: 45–60 minutes in class
AIM: Creative practice using the irregular verb forms, with the students writing and sharing their stories via Edmodo.
LANGUAGE FOCUS: Simple past forms, including past perfect if you've also been doing that. You can add to this by having your stories on a particular theme, e.g. if Valentine's Day is coming up, romance; if it's nearly Halloween, horror stories, etc.
TOOLS REQUIRED: Signing up for Edmodo – one of the many things I like about Edmodo is how easy it is to join and manage.
You will need to: (1) register as a teacher with Edmodo; (2) set up a group; and then (3) provide the access code to your students – a vital piece of information you can provide on your blackboard. Your students then need to (4) join Edmodo as students, using the access code to join your group.
If that sounds complicated, don't worry: one of the great things about Edmodo is that it's so easy to use.
You have full information, videos on set-up, etc on Edmodo.com (see Useful links, below).
Tip: As with all technology, it can be helpful to try it out first yourself. With Edmodo, you could set up a group for other teachers to use with you. They should join Edmodo as teachers (not as students), then join your group. It makes a great virtual staffroom for sharing ideas!
How to teach the lesson

The lesson suggested below works well in different ways. I've been using this idea with pen and paper for over 20 years, but if you have computers in the classroom it can be done in class. If you don't have one device per person (computer, laptop, tablet or even mobile phones …), have your students work in pairs.
Personally, I actually prefer to have students work in pairs; I sit them in pairs in front of a single computer, and they write one story per pair. The advantages are: (1) they have to collaborate and talk; (2) anyone who hates writing or thinks they just don't have the imagination for this task gets help from a partner; and (3) you reduce the amount you might have to correct by 50%. Yay!
Alternatively, you could set the task to be done outside class (i.e. as homework), with the students sharing and commenting on their stories via Edmodo.
Before turning any computers on
Giving instructions: Explain to your students that they have to (1) write a story using as many irregular past forms as possible; (2) post it on Edmodo; (3) read other people's stories; and (4) comment on other people's stories.


Getting imaginative: Before anyone turns a computer on, provide a prompt of some kind that will generate ideas. To get your students' imagination flowing, I recommend an interesting photograph like the one shown below and some questions like these: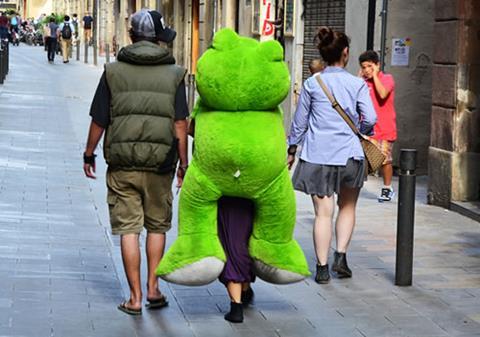 What is the green thing's name?
Is it a person?
Why is it green?
Why is it being carried?
Why is the kid in the red shirt reacting like that?
How does the kid know the green thing?
I generally do this in open class and use it as an opportunity to provide any extra language the story might require.
Writing the stories: If your students are writing in pairs, I like to have a pen and paper stage for this first, as it generally produces talking, which I think is better in a language class than typing. They can write in note form, rather than putting down the full story. Your job is to provide any language the students might require, though at low levels. I also like to encourage them to keep it simple and say mostly what they already know how to say. You might also suggest they use an online dictionary.
Now turn your computer on!
Providing the access code: Provide the students with the access code for your group (it's a 6-digit code, automatically generated when you create the group – see above).


Joining Edmodo: Have them join Edmodo. (Tip: Make sure you've given them all the instructions on what they have to write before this, as once they get started it will be tough to get their attention again!)


Writing and posting the stories: Again, I really recommend students working in pairs for this, with one computer or tablet per pair. They need to create what Edmodo calls a new 'note' for their story, and then use the 'send' button to post it to everyone.


Commenting on other stories: To really take advantage of Edmodo, and to make it communicative, you want your students to read each other's work and comment on it (Edmodo in fact calls them 'replies', not 'comments'). After about ten minutes (try using an online countdown, such as e.ggtimer), tell everyone to stop, publish their (possibly unfinished) stories, and then spend the next five minutes reading and commenting on other people's stories. It's great for practising interrogative forms, e.g. 'Why did he …?', 'What happened before she …?', apart from anything else. Having the students comment on anything they don't understand and/or would change can also be very productive. You might like to write up some of these comments on the board as examples. Alternatively, you could post them on Edmodo (but be the LAST person to post, otherwise your examples will be invisible; you know what happens with 'old' Facebook posts – they drop out of sight!).


Editing stories: After the five-minute commenting stage, have the students go back to their own stories (they can edit what they have already published, obviously), answer any comments, and then continue editing their story.


More stories! If your students tell you they've finished, 20 minutes before the end of the lesson, ask them to write another a story. It's totally unthinkable to do that with traditional writing tasks, but with Edmodo I think you'll find that someone always asks you, 'Can I write another one?'
And at home …
I try to avoid using the dreaded word 'homework', but here's a couple of fun things to do before the next class:
Writing more stories: As above.


Awarding prizes: Another great way to get lots of comments (and thus more language) – and to make sure the students read each other's work – is to have them award prizes to their classmates. These can be for the best story, the scariest story, etc, but also for things like the story with the most (correct!) irregular verb forms in it, or the story with the highest percentage of words that are irregular verbs.
In the next class …
Correcting mistakes: My correction policy is essentially (1) NOT to correct any errors I see in comments (it's impossible!); (2) to provide as much help as possible while the stories are being written – to reduce the number of errors requiring subsequent correction as far as possible; (3) to write some corrections to the actual stories myself via Edmodo; and (4), as much as anything, have any errors made influence what I then teach and/or revise in subsequent lessons.
Other possibilities
At a more advanced level, you could try the following:
A story – one with a beginning, middle and end – in a single sentence.
A story in exactly 50 (or 100) words.
A story using lots of simple past forms, but incorporating (correctly!) any other language you want your students to practise (a list of 4 or 5 phrasal verbs is always fun!).
A story based on those video clips promoting songs that seem to tell a story: have your students discuss and then tell that story.
A story in exactly 100 words, in which no word is repeated (yes!).
Alternatively, there are some wonderful writing prompts here www.writeabout.com/ideas and here writingprompts.tumblr.com.
If you (or your students!) would rather practise speaking than writing, you could also have your students narrate their stories orally, record them with a tool like Vocaroo vocaroo.com or Voki (look for the free version!) www.voki.com/pricing.php or an app like Spreaker www.spreaker.com, and then share the audio (mp3) files created via Edmodo.
Useful links
Edmodo Help section https://support.edmodo.com/home#teacher
Edmodo Privacy section https://www.edmodo.com/privacy
Top ten tips for starting with Edmodo http://blogs.ihes.com/tech-elt/?p=3625
Edmodo: some of the features well worth exploring http://blogs.ihes.com/tech-elt/?p=3640
More ideas on how you could use Edmodo http://blogs.ihes.com/tech-elt/?cat=72
Tech Tools for Teachers: Digital Narrative http://www.onestopenglish.com/methodology/tech-tools-for-teachers/digital-narrative/
Writing matters: Planning, drafting and editing http://www.onestopenglish.com/skills/writing/writing-matters/writing-matters-planning-drafting-and-editing/554184.article
Feedback
If you try the lesson out, I'd love to hear how it went. Do tell me in the comments (and feel free to ask questions, too).
Credits
Edmodo and the Edmodo logo are registered trademarks of Edmodo, Inc., used with permission.