Macmillan Education is thrilled to announce that its IELTS Skills app has won the ESU President's Award!
We're very proud to announce that our the IELTS Skills app has been named by The English-Speaking Union (ESU) as winner of the prestigious 2013 President's Award!
Each year, the award supported by HRH The Princess Royal, recognizes and encourages the widespread use of technology to enhance English teaching worldwide. Lord Boateng will host the award at a ceremony in London's iconic House of Lords on 25th February accompanied by a special guest to be announced.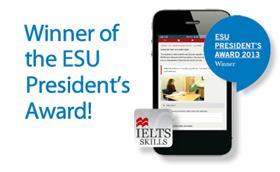 The ESU decided the IELTS Skills app was a clear winner thanks to a mix of great content, design and utility.
The judges said the app was "a very high-quality and comprehensive piece of software, in terms of design and content. It suits its target audience perfectly and the fact that it can be used on a smartphone is highly advantageous. It is very professional in its image and the content is innovative, varied and well thought through."
This is not the first time we have won the prize – the Global e-workbook won in 2010 and Macmillan Education has been shortlisted a number of times in the past. Chris Willis, Teacher Resources Publisher said winning the award "shows we've achieved our goal of creating an indispensable app that is a powerful tool for both teachers and students and we're staying ahead of the game in the digital revolution that's happening in education."
Written by the renowned author Sam McCarter, the app brings together decades of exam experience and the latest technology to create a comprehensive app to help students develop the reading, writing, speaking and listening skills they need to pass the IELTS exam anytime, anywhere. The exam is taken by over two million students each year.
FIND OUT MORE ABOUT OUR AWARD-WINNING IELTS SKILLS APP >>
DOWNLOAD NOW from the App store >>