Extra teens resources
In this section you'll find a wide variety of extra resources to use with your teen class from the 'Live from…' listening series to our very own superhero Grammarman!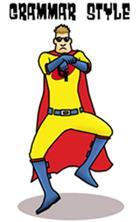 Never fear, Brian Boyd's Grammarman is here to address all your students' punctuation problems and provide syntax solutions in the form of a comic-strip worksheet.
In this first episode, we are introduced to Grammarman and his friends. Help our correction-crusading hero by finding the eight mistakes in the story. The answers can be found in the downloadable worksheet at the bottom of the page. This episode is free to all onestopenglish users.

Owl Hall, by Robert Campbell and Lindsay Clandfield, is a gripping teenage mystery story told in thirteen spooky parts with book, website and audio serialization.

An audio serialization of the upper-intermediate-level Macmillan Reader, The Importance of Being Earnest, is told in eight chapters. Each chapter is accompanied by a comprehensive lesson plan written by Daniel Barber, including teacher's notes, with suggestions for extension activities, plus student worksheets and a full transcript and glossary. 
Our cinematic listening series.
Meet Katie – a girl who is so bored with her life in Britain that she decides to go to California to make a fresh start. What happens to the boyfriend she leaves behind? And who is the tall, handsome stranger she meets on the plane? Each episode includes an audio file, the full transcript and student worksheets written by Lindsay Clandfield and Jo ...
In this lesson, students will name personal objects and use personal objects to identify themselves.
In this lesson, students will identify fashions from the past and write about a recent fashion.