Summer school resources
Whether you're teaching a short course or summer school, here's a bumper resources page to help you get ready for the summer.

Bring a bit of sunshine into the classroom with a stimulating range of projects: from Carol Read's Amazing world of animals to Jamie Keddie's series on using art in the classroom. What's more, with our huge bank of interactive games, audio serializations and Top Trumps resources, we'll make sure there's never a dull moment this summer!
Meet Katie as she makes a new start in Caifornia from the UK.
Eleanor Hayes wins this month's Lesson Share with a lesson to learn ways of handling workplace conflict.
A Time to Travel is an audio adventure by Luke and James Vyner. Follow Amber and Naz as they time-travel through history.
Grammar games and activities by Jill Hadfield, each of which is designed to provide practice and review of a single grammar point.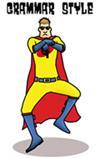 Never fear, Brian Boyd's Grammarman is here to address all your students' punctuation problems and provide syntax solutions in the form of a comic-strip worksheet.

Adrian Tennant introduces a new series of integrated skills lesson plans based on a mix of common coursebook topics.
Tech Tools is a series of articles giving a whole host of ideas and suggestions for using technology in the classroom.
Learn all about the summer solstice and how it is celebrated throughout the world in our seasonal-themed webquest.

Technical wizards Nicky Hockly and Gavin Dudeney present a series of lesson plans on using mobile phones in class.
In this lesson for teens, students expand vocabulary and idiomatic expressions, and write and recite an imaginary online chat.
In this lesson for teens, students revise and expand vocabulary, practise speaking about feelings and play a negotiations game.
Vocabulary for describing London's tourist attractions.
A wordsearch, video and create-your-own emoti story.
Learn about London!
In this young learners lesson, students do a wordsearch, learn vocabulary related to describing buildings and play a city planning game.