Summer school resources
Whether you're teaching a short course or summer school, here's a bumper resources page to help you get ready for the summer.

Bring a bit of sunshine into the classroom with a stimulating range of projects: from Carol Read's Amazing world of animals to Jamie Keddie's series on using art in the classroom. What's more, with our huge bank of interactive games, audio serializations and Top Trumps resources, we'll make sure there's never a dull moment this summer!
Meet Katie – a girl who is so bored with her life in Britain that she decides to go to California to make a fresh start. What happens to the boyfriend she leaves behind? And who is the tall, handsome stranger she meets on the plane?
A Time to Travel is an audio adventure by Luke and James Vyner. Follow Amber and Naz, as they time-travel through history.
Luke and James Vyner present a series of cinematic listening lessons that will take you and your students on a fantastic adventure through London – with your guide, Lord Jeffrey, the Ghost of London. Part audio guide, part audio play, this thrilling listening experience will excite and engage your learners whilst introducing them to the vibrant city of London and the colourful language that fills its streets.
Grammar games and activities by Jill Hadfield, each of which is designed to provide practice and review of a single grammar point.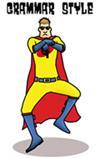 Never fear, Brian Boyd's Grammarman is here to address all your students' punctuation problems and provide syntax solutions in the form of a comic-strip worksheet.

Adrian Tennant introduces a new series of integrated skills lesson plans based on a mix of common coursebook topics.
Tech Tools is a series of articles giving a whole host of ideas and suggestions for using technology in the classroom.

Technical wizards Nicky Hockly and Gavin Dudeney present a series of lesson plans on using mobile phones in class.

A series of integrated skills lessons by Jackie McAvoy on recording and producing video and audio clips in the classroom.
In this lesson, students will describe their first impressions of people and what they notice about appearance and personality.
Students draw and describe a picture and talk about the four seasons.

Owl Hall, by Robert Campbell and Lindsay Clandfield, is a gripping teenage mystery story told in thirteen spooky parts. But that's not all … find out all about Owl Hall and everything it has to offer you and your students here!
Onestopenglish Phonics provides teachers with comprehensive support for their phonics teaching, including tips, teacher's notes, worksheets, audio and flashcards to use in class.
We've teamed up with the makers of Top Trumps (one of the best-loved children's card games ever) to bring you a series of brand-new teaching materials, perfect for injecting some game-play into your young learner classes.
The Amazing world of food, by Carol Read, is a project for Young Learners designed to simultaneously build up learners' language skills and knowledge of food. The project is divided into six lessons and leads to a final outcome of children creating a group e-zine/magazine with the title 'Amazing world of food'.