Story-themed resources
Everybody loves a good story and what better way to teach English than through a gripping tale! Below is a collection of Macmillan serialized readers, cinematic listening, young learner stories and poems, as well as a collection of story- and literature-themed worksheets.

Macmillan serialized readers

Owl Hall, by Robert Campbell and Lindsay Clandfield, is a gripping teenage mystery story told in thirteen spooky parts with book, website and audio serialization.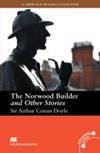 An audio serialization of the intermediate-level Macmillan Reader, The Norwood Builder and Other Stories, with accompanying listening activities and transcripts.
Young Learner stories and poems
A poem by Leo Kingsmill about a boy who is having an extremely bad day, with a complete lesson plan and worksheets by Adrian Tennant.
A story by Bridgid Slater about searching for something you have lost, with a complete lesson plan and worksheets by Adrian Tennant.
A Time to Travel is an audio adventure by Luke and James Vyner. Follow Amber and Naz as they time-travel through history.
Our cinematic listening series.
More story-themed resources
An activity about the structure of well-known stories, available at three different difficulty levels.
 A song with accompanying audio about the Goldilocks story, available at two difficulty levels.