Institutional subscriptions to onestopenglish
Save up to 30% on onestopenglish by joining as an institution!
Starting at just £189 for five teachers, an institutional subscription offers the most cost-effective way to get full access to all of our 10,000 resources on onestopenglish. Whether you're looking for resources to support five teachers or 50, choose from our selected subscription bands to see how you could save as an institution.
Top 5 reasons to subscribe as an institution
Save money: save up to 30% on the cost of a onestopenglish subscription with pricing bands tailored to suit institutions of all shapes and sizes
Admin Portal: access your own institutional Admin Portal to manage your subscription, see who has access and invite new teachers to join at the click of a button (find out more below)
Instant access to classroom resources: give your teachers access to over 10,000 teaching materials to cover all areas of English language teaching, from CLIL to EAP (see sample resources)
Professional development: find methodology articles and teaching tips to keep your teachers up to speed with the latest pedagogies and support their continued development
High-quality teaching materials: written and edited by ELT experts, you can relax knowing that all of our materials bear the Macmillan Education stamp of quality

Hear what our institutional customers have to say: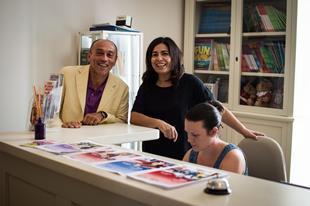 "At British School Lugo, we have been using onestopenglish for two years. Onestopenglish was originally recommended to us by our association AIBSE. Using onestopenglish gives both teachers and students the opportunity to access a wide range of varied and interesting material. The most useful thing is that there is always a ready prepared and tested lesson plan for so many topics. I would highly recommend it to other institutions as I think all our teachers appreciate the value of onestopenglish."
Jacqueline McCormack, Director of Studies, British School Lugo
Institutional subscriptions prices
| Band | Institutional price | Saving |
| --- | --- | --- |
| Up to 5 teachers | £189 | £210 save 10% |
| 6-10 teachers | £335 | £420 save 20% |
| 11-20 teachers | £670 | £840 save 20% |
| 21-30 teachers | £945 | £1,260 save 25% |
| 31-40 teachers | £1,175 | £1,680 save 30% |
| 41-50 teachers | £1,470 | £2,100 save 30% |
| 51+ teachers | Request quote |   |
Admin Portal guide
Learn how to make the most of your institutional Admin Portal and get to grips with all of the tools with our illustrated Admin Portal guide. Download the PDF at the bottom of the page.
Follow this link to visit the Onestopenglish Admin Portal.