Diary from France: Where is Brian?
In her eleventh diary entry, Sue Woodward tells us about the start of the summer in Issoire and what makes her beginner students laugh.
Summer is here! The first heat wave has hit the Massif Central with temperatures in the valley reaching the mid 30s. The supermarkets are stocked with barbecue goodies and flip-flops, and the car parks are full of tourists' cars and campervans. It's hot in the offices with no air-con, but to compensate I've enjoyed my first lunchtime dips in the outdoor pool in Issoire.
My Saturday morning teaching has finished but I've a sudden influx of new telephone students to keep me busy. Elsa, an auditor, is particularly motivated as she's just received exciting news of a three-month work placement in Boston, USA. We've been working on how she will introduce herself to her clients and, although her English is already of a high standard, she still needs a little help with those pesky 'little' words: participate in, responsible for, in charge of, divided into …
Meanwhile, back at the forge, my new beginners' groups are now working well together. I realised that the factory floor workers needed a little help in learning 'how to learn'. Initially they just turned up for lessons and seemed to expect that one hour a week would give them all they needed to know. Like the infamous Gilles (from a previous entry), they were unwilling to put pen to paper and spend time between lessons reviewing the basics. I managed to spark a little more interest with a worksheet featuring the Simpsons' family tree.
'Alors… les Simpson!' they enthused.
I then asked them to talk about their family situations.
'Do you have any children?' I asked Christophe. (I know he's single but I wanted him to practise a negative sentence).
'Perhaps, here and there…' he grinned.
Last week, my nine o'clock group were unusually in the teaching room already when I arrived. I opened the door to hear them chanting loudly:
'Where is Brian?'
'Brian is in the kitchen' (followed by much laughter).
I was a bit puzzled until they explained that these were stock phrases from their old school text book. It brought to mind the stilted 'Janet and John' readers from my schooldays. (Now that shows my age, doesn't it?)
Thierry is a real character. He's a motorcycle enthusiast and often wears a Route 66 T-shirt, bought in the USA on a road trip.
'We can go slowly, slowly,' he reassures me, exhaling loudly. 'We have 20 years to learn our lessons.'
'Thierry,' I correct him. 'I'll be retired in 20 years. You have 20 hours.'
Next lesson, he produces a camera and a wrapped sweet.
'My friend doesn't believe I make English lessons. So, my colleague will take a video of me learning. When I get the answer right, you will give me the sweet.'
I'm more than a little embarrassed but I have to humour him.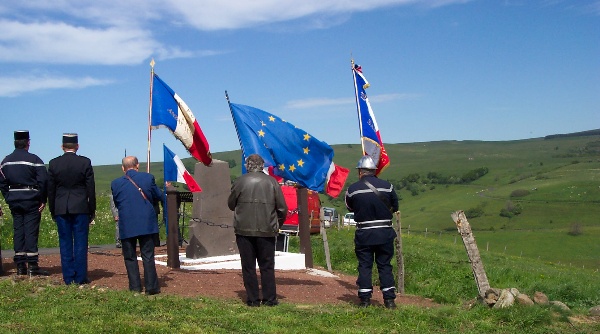 Away from the bustle of the town and back in the wild, windswept countryside close to my village, we attend a ceremony to commemorate the 70th anniversary of the D-Day landings and more particularly the courage of the Resistance workers who assembled at this remote spot to continue their fight against the Nazi occupation. The poignant rendering of Le Chant des Partisans (the anthem of the Free French), followed by La Marseillaise brings tears to even an English woman's eyes.