Diary from France: The good, the bad and the hot cross buns
In her ninth diary entry, Sue Woodward shares her experiences of teaching two very different groups of adult learners.
It's strange how I thought that after teaching truculent teenagers, a group of adults would be a piece of cake. Think again!
My previous adult business English classes had had a degree of structure. I'd been provided with basic teaching materials and a course outline to follow so I knew what was required. But my Saturday morning general English group at the community centre was a different kettle of fish. (Sorry for the two idiomatic expressions but I've been teaching idioms recently.)
With ages ranging from 17 to mid-60s and occupations including social worker, primary school teacher and tourist office assistant, I knew that the emphasis for this class would be on speaking. Despite this, I would provide support materials such as: a list of relevant vocabulary, role-play activities and even simple exercises like re-ordering a conversation.
After a while I realized I was in trouble when Gilles continued to turn up without a pen. Maybe I'm being old-fashioned, but I thought the idea of a class was to learn something and that would probably entail writing something down.
'I don't want your pieces of paper,' Gilles informed me a little too bluntly. 'I know how to read and write.'
I drove home close to tears. I'd had hassle with kids before and on one occasion a parent from hell but this was unexpected. Despite this, I battled on to the end of the year but I never felt that the group had gelled.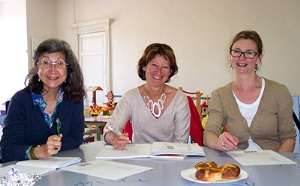 Apprehensively, I took on a second adult class, being careful to turn up with the absolute minimum 'pieces of paper'. My students filed in a little nervously, clutching note books and, guess what, pens! They hung onto every word, asking for repetition of new vocabulary, checked spellings and made me wait while they wrote everything down. We covered family and home life, hobbies, shopping, restaurants and holidays. They loved the role-plays and even enjoyed the simple written exercises.

'Are my vocabulary sheets useful?' I asked tentatively.
'Oh, yes. Essential!' they enthused.
Then, at the end of one class, Brigitte asked nervously:
'If it's OK with everyone, please could we do some grammar?'
They devoured revision of the present simple versus the present continuous and we moved smoothly on to use of the past simple.
One of my favourite activities to practise irregular verbs is the 'Accusation Game'. I distribute slips of paper with statements such as 'You drank my beer!' One student has to 'accuse' another, who then has to respond with a vehement denial: 'No, I didn't drink your beer!' Much laughter usually ensues as the accusations get more and more ridiculous.
Alongside language teaching, I'm always keen to introduce aspects of English culture into my lessons and around Easter I dusted off my breadmaker and managed to produce a plate of passable hot cross buns, which are unknown in France. I'd printed out the recipe too and as well as tasting, with pens at the ready, my new conscientious group wanted to translate every word.