Diary from France: Technically speaking
In her fourth diary entry, Sue Woodward gives us some insight into teaching technical English to students who work in an industrial setting.
It's been holiday time again in France and I took advantage of it by visiting the UK to sample a few real ales, eat fish and chips and chat without worrying about adjectival agreements. Navigating roundabouts in the correct direction proved to be a problem though. I caught up with old friends and made a special request to see the sea, as here in central France it's so far away!
Back at home (after almost 24 hours on the road in horrendous driving conditions), it was an effort to haul myself out of bed for the 45-minute commute to Issoire the next morning. Fortunately, my teaching there is in a very interesting environment: the Aubert & Duval factory. This factory houses a huge forge which presses aluminium into pieces for aircraft bodies, including the Airbus.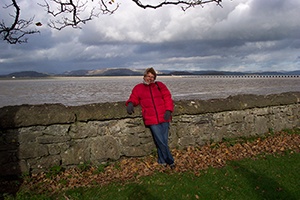 My students mainly work in design or quality control and they need a mixture of technical English for understanding reports, general conversation for socializing and a little grammar thrown in for good measure. Once again working in an industrial setting is widening my technical vocabulary and it certainly helps having a scientific husband who can fill any gaps in my understanding of metallurgy!
We've been working on specifications and my students had the task of trying to sell me a wonderful new product: a 'Hover Airboard Scooter' which would transport me comfortably around town on a cushion of air! They had to answer a barrage of questions about construction materials, fuel economy, maximum speed, available colours and dimensions. The pronunciation of high, height, heavy, length and width caused a few difficulties but I countered this by explaining that there are many French words I find impossible to say correctly. After all this effort, I had to tell them that as the price was $27,000 dollars, sadly I wouldn't be ordering one.
I'd made a note in my diary that the 5th November (in addition of course to Bonfire Night in the UK) was my student Cecile's birthday. She told me that her colleagues had been reading articles in Marie-Claire magazine and so as well as flowers they had bought her a 'sexy present'. She didn't seem too embarrassed explaining what this was, but added that she preferred the flowers.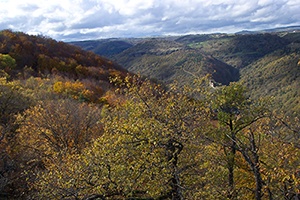 November in France also saw two public holidays, the 1st for Toussaint (All Saints) and then the 11th for Armistice Day. This year these fell on a Friday and a Monday respectively, meaning there was no opportunity for the French to sneak an extra day's holiday in, known as faire le pont (literally meaning 'build the bridge') and thus making a very long weekend. I find the ceremony in our village on Armistice Day especially moving. We all walk in a short procession, behind the village fire-fighters, to the war memorial where a large wreath is laid by the mayor. The names of all the soldiers from our commune who lost their lives are read out and it's a very long list indeed.
As I write, the late autumn colours here in the Auvergne are stunning and so we take time out at the weekends for long walks to enjoy them before the high winds strip the leaves completely.