Diary from France: Swapping shoes
In her eighth diary entry, Sue Woodward remembers first moving to France and how it helped her to empathize with struggling students.
I think all teachers should occasionally put themselves into the shoes of a learner. I don't just mean as a language student either. Our move to France meant that we had a whole new culture to embrace.
I remember our first day here very well indeed: the removal guys were busy unloading the van, we were directing operations and suddenly a man appeared at the gate waving a bottle of wine and a couple of glasses. No, it wasn't a welcoming neighbour, but a passing wine producer keen to get us to sample his wares. He seemed oblivious to the fact that we were otherwise occupied but, needless to say, we took a break, tasted and purchased a few bottles.
I'd studied French and even taught French to beginners in the UK. However, when you actually live here, you need so much more than being able to talk about your family and other animals and what you did at the weekend. My first brush with official French paperwork made me realize just how the weaker linguists in my class had felt:
'Can't understand a word', I complained as I pushed the tax form away in frustration.
This brought back strong memories of:
'Aw miss, can't do it', said with a shrug as the book was shoved across the table.
I also began to understand how mishearing leads to confusion …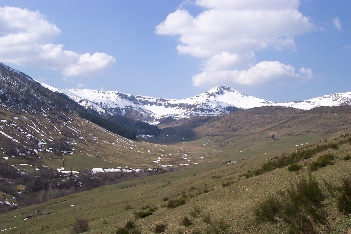 I once met up with Jean-Pierre in the village and I thought we were discussing the weather:
'On the last weekend in January it's always cold in Issoire. It's the 28th this year when it will be cold in Issoire', he informed me. I was impressed by his detailed meteorological knowledge of our local town and then I gradually realized that he had said foire, meaning fair (as in market) not froid meaning cold.
Then once, listening to the radio, my husband and I wondered why the reporter on a serious political programme was obsessed with his breakfast. Later on we realized that he had been talking about the croissance (growth) of the economy and not croissants as we had first thought.
Experiences like this have helped me advise my English students: listen, listen and listen – even if only for a few minutes a day. Listen to the radio news on the hour – as it's often repetitive they will start to understand a little more each time. Watch original version films with subtitles. In the early days we watched the French equivalent of Who Wants to be a Millionaire? many times and occasionally even answered a question correctly!
As I write, people down in the valley are welcoming spring but here we still have a little snow on the high ground. Hopefully the fields will soon be a mass of yellow wild daffodils, followed by the heady scent of the white narcissus. Spring comes late to the Massif Central but it's worth waiting for.