Diary from France: 'Les petits'
In her seventh diary entry, Sue Woodward is faced with the challenge of teaching a group of young learners ranging in age from five to ten. How does she cope?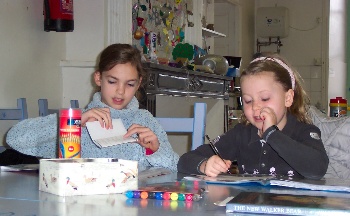 It seems that jobs today often arise by word of mouth (or maybe the modern word is networking) and that's how I came to receive a telephone call from the manager of a community centre in a nearby town. I should explain that 'nearby' in my neck of the woods means only about half an hour's drive away.
'We want to start classes for les petits,' explained Nathalie. With some trepidation I accepted. I say trepidation because many years ago I'd withdrawn from a primary teacher training course as I'd felt it wasn't for me. Maybe 30 years on I'd cope better with the little ones? On Saturday mornings, during term time, I was to teach a group of eight to ten year olds, followed by those aged five to seven.
French children can start maternelle at two and a half years old but they don't begin formal reading and writing until around the age of six, so I knew I would have to rely on purely visual activities for the younger ones: flashcards, guessing games, 'find the pairs' and so on. Luckily a kind friend lent me some CDs and a story book.
Thus, I found myself singing 'One, two, three, four, five, once I caught a fish alive' whilst dangling a cardboard cut-out fish on a piece of string. I suddenly felt a million miles away from Friday's advanced business English lesson with Marijan.
I prepared flashcards with images for look, listen and repeat to get the children acquainted with basic classroom instructions. Little Antonin soon got the hang of repeat to the degree that he repeated the last two words of everything I uttered.
'Hello Antonin, come in and take your coat off.'
'… coat off.'
'Good boy. Sit down here.'
'… down here,' he echoed.
After a few weeks, due to budget constraints (sounds familiar doesn't it?), I was told that I would have to merge my two groups, meaning an age range of five to ten years old.
'Pas possible!' I protested.
After some negotiation, I agreed to take the older children for half an hour, have all of them together for 15 minutes and then finish with just the little ones for the last quarter of an hour.
I was seriously worried about lesson planning but now I've established a routine. I can do listening, speaking and a little reading and writing with Pauline and Gaia, and while I get ready for the influx of six petits enfants (that includes removal of hats, coats, scarves and gloves), the older girls work independently on a wordsearch or similar. We do a story or a song all together (Pauline and Gaia love to dance!) and then the younger ones finish with a related colouring page or a cut-and-stick activity. I hand out basic vocabulary sheets to the parents at the end as I know some of them like to practise at home with the children. After a loud chorus of bye and see you next week (or Nesquik as Cosmas says!), I grab a welcome cup of coffee and collapse gratefully into the nearest chair.