Diary from France: Friends or enemies?
In her tenth diary entry, Sue Woodward takes us through some of her common class misunderstandings and pronunciation difficulties.
Of course it's important to have friends, but occasionally they can let you down. They can cause communication hiccups and even serious misunderstandings. You've probably guessed that I'm talking about false friends or false cognates: words which are the same or very similar in two languages but mean something totally different. The French and English languages are littered with these devious traps and I've been discussing them with my business students in recent lessons.
You could be led to think that my students spend a lot of time catching up with old school mates until you realize that their réunions are just bog standard meetings. To arrange a meeting generally involves the use of a diary but as the French for this handy object is un agenda it can get very confusing. When I'm told that I have to assist at the meeting, they don't want my help, just my presence. And so the list goes on …
My technical English students have been learning vocabulary related to materials and properties and as the French word slip translates as underpants, you can imagine what they thought 'non-slip' meant!
This month has brought more challenges for me in the form of three additional groups at the aluminium plant. Whilst most of my past students have had a basic, although somewhat 'rusty' standard of English, some of the new trainees are almost at beginner level. Thus we've been learning introductions and wrestling with the difference between 'How do you do?' and 'How are you?'. It's difficult to explain that at times it's not possible to translate word for word.
Mastering ordinal numbers brings problems for my new students. The 'th' sound is notoriously difficult for French people to pronounce and I have a suspicion that they are doing everything to avoid telling me the date correctly.
'So what's the date today, please?'
'Err … we are the 7 May.
'It's the seventh', I correct, exaggerating the 'th' maybe a bit too much and I have to wipe a little blob of spit off the table.
The group attempt the 'th' sound once more whilst I try to explain about the positioning of the tongue behind the front teeth. I once found an amusing cartoon to illustrate this, the final advice being: 'Consult your dentist!' I'm not sure that my students fully understood it, but we had a laugh anyway.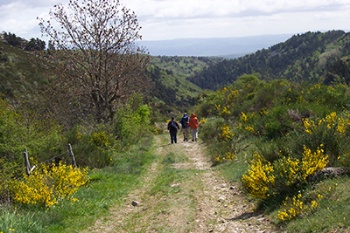 Here in the Auvergne, at 1200 metres altitude, winter can be long but at last my mountain village is starting to come to life. Today was the annual village walk – 21 kilometres over what at time can be very challenging terrain, and I'm wondering if I'll be able to get out of bed tomorrow.

The weather was kind for much of the day, which enabled us to have the most stunning views. In true French style we had a coffee and croissant break and then the lunchtime picnic was preceded by a fruit juice and rum aperitif. For those who wanted, a copious amount of wine was also on offer. In order to complete the final 10k in a straight line, I wisely decided to stick to water.