Diary from France: A look back
In her twelfth diary entry, Sue Woodward reflects on her year of teaching English in France.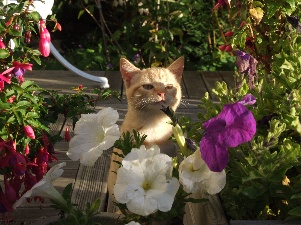 It seems appropriate for my last diary entry that I look back over the past year. It's certainly been a year of mixed emotions – some great times and some very sad moments too.
I'd discussed articles on 'culture shock' with my advanced students and I suddenly realised that maybe it was happening to me. I found myself longing for a pub with an open fire, a tea shop and even a cricket match. Thus, we spent a few months seriously considering getting passports for our menagerie of cats and planning a return to our Derbyshire cottage.

But, gradually I began to reflect on the positive aspects of my life here in France (no, not the choice of cheeses and quaffable wine at budget prices). The overriding factor was the variety and quality of my teaching work.
I'm fortunate to have a lovely set of telephone students who have high-level jobs in and around Paris. After 20 hours of lessons, I feel that, as well as understanding their jobs, I know all about their families and interests too.
I've gained more experience of teaching in an industrial environment, combining general English with more technical vocabulary. I've also taught rock-bottom adult beginners for the first time and learnt so much about the need to build up their confidence. I've mentioned before the bad experiences many had in schools, such as a mark deducted for each mistake so they would always end up with 0 out of 20.
My (all female) Saturday morning group have been great fun this year. Whilst learning physical descriptions, they wanted to know more 'body' words than were in the text book. When I asked Veronique to describe herself, I expected her to say she was tall and had long blond hair. Much to my surprise she began:
'Alors, I have big breasts…'
My other work has involved teaching advanced business English and, right at the opposite end of the spectrum, my group of lively 5-10 year olds. I just had to make sure I'd got the correct CD in my machine as Learn English with Tommy and Julie was not really appropriate for a senior sales manager!
I love the tactile nature of the French workplace – the practice of shaking hands with all colleagues before work can begin. People I don't even teach greet me in the corridors, or at the coffee machine, with a bonjour and a handshake. Socially, I'm just about comfortable with all the kissing but I'm never sure how many bisous are expected. Some of my village neighbours now hold up two or three fingers beforehand so I know. It saves embarrassing head clashes. Jean-Pierre always tries for a fourth on the lips but I've become adept at ducking out of the way.
So, the decision has been made – we're staying in France. However, after five years of living in a remote mountainous area, I feel the need to have an easier commute to Issoire or the 'big city' of our region, Clermont-Ferrand. I also want to sleep better without waking up hourly to check how much snow has fallen!
But, now it's time to get out the deckchair again and hopefully enjoy the sun and the garden. Happy holidays!