Diary 7: Fire fighting
In his seventh set of diary entries, Saul Pope has a busy week and makes a decision about his future.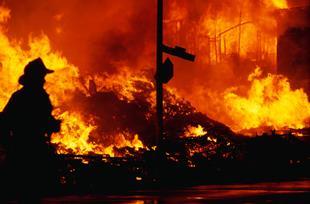 Sunday 23rd January
Well, the week has started in style, with a visit by my wife and I to the local cinema. It is  strangely, at least to the English ear, but perhaps appropriately named, 'Freckle'. I say appropriate because it's generally a kid's cinema, and the word 'freckle' (veshnushka) sounds better in Russian than it does in English. Anyway, on this snowy Sunday evening we were the only patrons, and felt somewhat like celebrities being treated to a preview showing of a new film (though we're not, and the film we saw was quite old). Being the only ones there also meant that we could talk whenever we wanted, stand up and walk around (well, I did anyway) and do other things not usually acceptable in the cinema. We could have done something exciting I suppose, but in our case doing something that would be unacceptable in the presence of others meant me rather childishly pulling my wife's hair to stop her watching the film. Well, it is a kid's cinema.
The trip to the cinema was also a chance to forget about work, the week behind and the week ahead, though I feel rested and ready to go tomorrow morning. I spent last week being shadowed by one of our new recruits and doing a spot of team-teaching with her. The good news all-round is that when we team-taught a pre-intermediate group on Friday, her half of the lesson was better than mine. Humour is all important in ESL, as all good teachers know, and this teacher used a good classroom dynamic and her own sense of fun to very good effect. This is especially good news as from next week it's her group. Unfortunately many of my own attempts at humour with the same group of people left me floundering somewhat, a bit like David Brent trying a bit too hard to be a 'chilled-out entertainer' for his staff.
I managed to find the time for team-teaching as my CAE superstars have stopped turning up all together, thus what was once two groups has been whittled down to one. It's a shame, but I can see why for many university exams and work issues take precedence over my classes. Before upper-intermediate it seems that most students continue to the next level without really questioning it; they need to build their grammar and vocabulary, and are aiming to get fluent. After this has been achieved, however, the classes seem to become less relevant and are something of a luxury, only being really important for those planning to move to the UK for work or study. Contrary to what some areas of the British right-wing press would like us to believe about Eastern Europe, there don't seem to be many takers for this in St. Petersburg.
Anyway, team teaching a lower-level group was helpful to me for a couple of reasons. Firstly, it's been a while since I've taught more than four people in one group, and to have a full group again was refreshing; more characters to bounce off, more chance for group/pair work and more chance to change partners around. Secondly, it's reminded me that patience is important to any teacher, and is as important at CAE level as it is at elementary. I'd mentally been giving myself sixes for CAE so far this term, but after I'd slowed down to teach the pre-intermediates I gave myself a confident seven and a half with them. Up until that point the lessons hadn't been great as I needed to slow down a bit with them and give them time to absorb and enjoy what they were doing, rather than just processing the information.
Only having one group this coming week will give me a chance to do some observations. I'm off to Petergof tomorrow, observing three teachers on Wednesday and travelling out to Pushkin on Friday to see some of our new teachers.
Friday 28th January
This week I've made an important decision about my future. From some time in the near future I am, through my school but footing the cost myself, going to start studying for an accredited DELTA. This is a big decision in particular because it has effectively determined something I've been wondering about for about, well, three years – am I going to seriously try and build myself a career in ESL teaching? I do not consider myself to be a great traveller or adventurer and so do not foresee a nomadic career for myself, trying out life in many different countries. I got married two years ago and want to settle back down in Britain, but have always been wary of the seemingly transient nature of English Language teaching jobs there, the (admittedly well-paid) short-term contracts and lack of career prospects.
Of course, ESL is a lifestyle rather than just a job; the irregular hours, the endless photocopies and warmers and fillers and group feedbacks, the esoteric but strangely interesting world of Headway, English File and Cutting Edge. It's not really about the money or the career prospects, but I think everyone needs some sense of where they are going. Hopefully a DELTA, as long as I pass it, will give me both the lifestyle and the steady job.
Apart from personal landmarks, the week has been characterised by minor ailments and annoying computers. The temperature has suddenly dropped to about minus fifteen degrees, no laughing matter in a gloomy city built on a swamp, and this is what is responsible for making teachers come down with all sorts of coughs and colds and headaches. I've advised them to eat plenty of grapefruit – it's got me through four winters here – and not to come back to work until they feel 100%.
The annoying computer happened yesterday as I was trying to make an activity with wrongly spelt words for my CAE lot. Usually I appreciate the fact that Microsoft Word corrects most of your typing mistakes, but in this case I was slightly irked that I had to go back and un-correct the lot again. Why do we have to make life so shiny and convenient that it almost squeaks?
Anyway, must go as I'm off to Pushkin, one of St. Petersburg's satellite towns where the great poet once studied, to observe a couple of teachers. And I'm hoping to fit a quick game of Championship Manager in before I have to leave…
Monday 31st January
A day of putting out fires, if ever there was one. The first thing that happened this morning was that a teacher told me he is leaving the school, and wants to do so as soon as possible. Second piece of news I had was that another teacher is in hospital, and will be until at least Wednesday. At least next it was good news; a teacher is going to have to cancel a lesson tomorrow, but because he needs to take his heavily pregnant girlfriend to hospital; she's due in a couple of weeks, and after the morning that had gone before it was a pleasure to watch him smiling as he looked at baby clothes on the internet. Just before lunch I discovered that I have an open lesson to teach in a school miles from anywhere tomorrow morning, which for some reason no-one had told me about.
I'm still only learning, but I think the main thing in a job where anything can (and usually does) go wrong is not to panic. I felt like I'd been a couple of rounds with one of the Klichko brothers by the time I left to teach my corporate clients at 6pm today, but I think it'd have been a lot worse if I'd lost my cool. The fact that a teacher is leaving is a shame (he's very good), but ultimately it only takes a bit of timetable reshuffling and perhaps the recruitment of another teacher to sort things out. The main concern with the teacher being in hospital, contrary to what some of our administrative staff seem to believe, is that he is OK; his lessons are of secondary importance (as he is black, the teachers were all concerned that he'd been attacked by skinheads, which is relatively common here, but it seems that he has an infection of some sort). I'm also looking forward to going to visit my colleague's baby once it has been born. Finally, fingers crossed that the open lesson goes OK tomorrow…
Tuesday 1st February
That I spent ten minutes after my open lesson signing autographs suggests that it did go well, even though I'd had no chance to prepare for it and barely knew what the theme was. Strange (and flattering) how many students treat English teachers like (admittedly very minor) celebrities. It does seem a bit absurd that someone should want to get a photograph taken with me or to get my autograph, but if it acts as an inspiration for them to work harder at learning English then I suppose it's not a bad thing.
Unfortunately the lesson was also the scene of something rather uglier, something which rears its head from time to time in classrooms over here – racism. 'Do you like Japan people?', was a question I was asked by the noisy leader of the class, his question pointedly directed at one of his classmates, who was of mixed race. I ignored the question and carried on to answer questions on my favourite place in St. Petersburg and whether English people really eat porridge oats for breakfast. The idiocy of the question hit me immediately, but it was as sad to see that none of the other three regular Russian teachers in the classroom reacted to as it was to realise that I've become so used to the less enlightened opinions addressed in the direction of non-Russians you hear whilst in class.
The n-word is particularly popular, partly due to students translating the word directly from the Russian 'negr', a purely descriptive word with no racist connotations. In my own classes the word has long disappeared (a stern look and the words 'black man' are all it takes), though I know one teacher who recently, having heard enough, made his class write essays on why what they were saying was bad. They all seemed sincere.
We're here to teach English, not politics, sociology or good citizenship, but sometimes it's difficult not to cross those borders. I remember a lesson in which an incredibly arrogant and apparently stupid captain of a ship insisted that apartheid in South Africa had been a good thing. My attitude was to make it clear to him that I didn't agree with him, but in sum to pass over the issue and give the speaking time over to another topic. I think that's generally the best way to deal with such issues – to make it clear that racist talk or vocabulary has no place in your classroom (don't just giggle embarrassedly or ignore them; it surely helps students to know that talking like that is not on with the average person from your country), but to get back to the English learning as soon as possible.
I thought I'd heard my dose of racism for the day until I got into the main school to teach my CAE group. As a filler in the middle of the lesson we played Taboo! for a few minutes, a game in which you're given a word which has to be described as quickly as possible to the other students. One such word was 'Arabs', and the player, an otherwise pleasant student, described Arabs as 'the people we don't like'. The first guess, 'Americans', was turned down, as was 'Muslims', until finally 'Arabs' was elicited. Hopefully one day they'll get an Arab Muslim teacher from America and realise what fools they really are…
Friday 4th February
I wish it was the end of the week, but as far as I'm concerned it is still just tantalisingly out of reach. I've been give a new timetable, one that means I now work Saturdays and have Monday off. Nevertheless, I can't wait until tomorrow afternoon when I can get down to what is really important to me.
Apart from finally getting some time with Katya, I can at last have a good think about what's really been bothering me this week – no, not the teacher leaving, but whether it is better to play a 4-4-2 or a 5-3-2 system as Leicester City in Championship Manager. There's also a small matter of urgently needing to buy a new defensive midfielder and asking the board of directors for some more transfer money. I never did get that game in last week…