Diary from Italy: Food, glorious food!
In her sixth diary entry, Louise Richardson salivates over two of Italy's favourite things – food and coffee.
One of the best things about living in Italy is the food.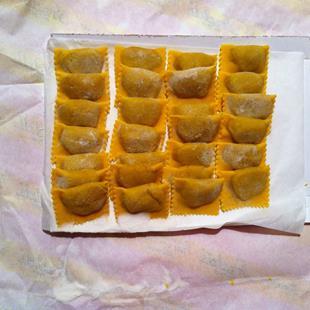 In Mantova where I live, one of the local specialities is tortelli di zucca (pumpkin ravioli). The tortelli are small golden squares of homemade pasta filled with a mixture of pumpkin, crumbled amaretti biscuits, nutmeg and other ingredients.
When I'm in the mood for tortelli di zucca, I pop into a certain food shop in the town centre and buy two portions of this pasta (one for me, one for my Italian husband). At home, I fill a medium-sized saucepan with water and bring it to the boil. I add the tortelli and cook them for a few minutes. I then drain the pasta and serve them with a tomato-based pasta sauce. This is not the traditional condiment but it's how we do it in our house. The final touch is some freshly grated parmesan cheese sprinkled over the top. 
Tortelli di zucca is a good antidote to the damp, dull days of winter. It is also a good pick-me-up after a day of teaching where things haven't exactly gone swimmingly. You know those days when you give your students a progress test and you have to seriously question whether they've made any progress at all. Or, when you look at your Cambridge First class's written work and realize that many students have written a freestyle essay that in no way answers the set question. And, this is in spite of your crystal clear lesson on essay-writing basics!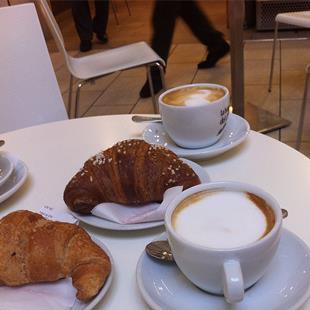 Another thing that helps with the frustations of teaching, and with life's frustrations in general, is Italian coffee.
My favourite coffee is the classic cappuccino, especially when consumed as a breakfast drink with a fresh jam-filled brioche on the side. For me, the coffee part of the cappuccino has to be strong, hot and full of flavour (a good quality espresso, in other words). The milk, on the other hand, has to be creamy, velvety and pleasant-tasting.
Unfortunately, even in Italy, some coffee bars serve up cappuccino where the milk component has a texture not unlike that of the suds you get from laundry soap. Blah! And, sometimes they overheat the milk, causing it to taste a bit sour. Blah, again! 
But, my cappuccino drinking is mostly confined to Sunday mornings. My priorities on weekday mornings are more about grabbing a quick breakfast at home and making sure I've put the right books, USB-sticks, board pens and lesson plans in my bag than finding the perfect cappuccino. In the event that I have forgotten key lesson materials, one of my fallback plans is to talk with my class or private students about – you guessed it – Italian food, which includes coffee, of course!