Diary from London: A sense of direction
In his fifth diary entry, David Foster turns his students' interest in maps into a full-blown topic exploring London's labyrinthine streets.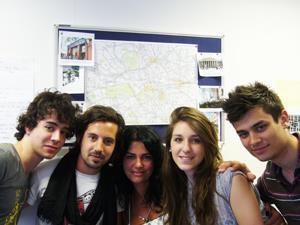 Here's a common scene: I run into the room after break with an armful of books and photocopies. In the corner of the room there is a huddle of students. They are crowding around one of the maps that are stuck on our classroom walls. They might be showing each other their home countries, comparing sizes or distance from the UK. But they might also be talking about holidays they've been on or dream destinations. These are conversations that my students are having while their on their break. Who doesn't love looking at a good map?
The types of discussions that a map can generate are endless. This week I find my intermediate student, Valentina, studying the coast of Britain. 'Where is a good place to go by the ocean?' 'Have you been to Brighton?' 'Not so big as Brighton.' This is a surprising enquiry as Britain is covered in a blanket of rain right now. The same day, I walk into my Advanced class and find Ana Carolina, a Brazilian student, moaning about the projection of the map on the wall. 'Look at the size of Greenland. Brazil is eight times the size of Greenland!' I could never have imagined embarking on a lesson with the topic of geographic projections as a warmer.
Maps undoubtedly provoke discussion. But the conversations described here are unplanned chat at the fringes of a lesson. As maps make such a natural catalyst for language, I've decided to find ways to integrate them more into my classes. The map I'm using to try this out is a map of London.
Any viewer looking at a map of London is likely to feel dizzy. It's a confusing, organic, tangle of streets woven together over hundreds of years. It's bewildering and intoxicating in equal measure. For the students, London offers excitement and frustration. I regularly hear student stories of getting hopelessly lost or alternatively discovering new and exciting places. I want to turn our map of London into something that tells these stories.
To do this, I ask students to use their mobile camera phones to take photos of the places they visit and the things they see. Sharing photos from the weekend makes a great starting point for Monday morning. I get students up on their feet, moving around, having short conversations about the photos. That's right; the students have the opportunity to use their phones in class! Some of the students have been to museums or markets. But there are plenty of unexpected surprises as well. Woo shows me photos of his favourite band, The Cribs, playing a gig at an Art Deco theatre in east London. Valentina has been videoing the rollerblade disco party in Hyde Park. The task generates curiosity, vocabulary and pronunciation fun. How can 'Leicester', as in 'Leicester Square' only have two syllables? There is much discussion of funny London place names.
I ask students to email me their photos with a caption for them. This leads to further work. Students now want to learn how to caption their photos well, so they can describe their experiences and places succinctly. This is a project that has just begun. The map of London is fast becoming a topic of discussion in the class. It's more than a map now, it's become a motivation for students to get out, use their English and explore the city of London.