Teachers' diaries
Take a sneak peek into the daily lives of teachers across the world in the Teachers' diaries section.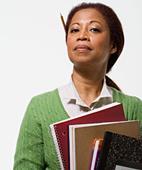 Each year we run a competition to find a new teacher diarist. Below are all of our fabulous winners and their diaries of teaching English from Dublin to Kazakhstan.

The main aims behind publishing these diaries are: to bring some good writing to you; to open the door to classrooms so that you can share other teachers' experiences of teaching English and to provide a series of thoughts and ideas that will allow you to reflect on teaching practice. We hope you will also find them entertaining. At times the writers also describe the experience of living in a foreign country and some also use occasional strong language.
Inside Teachers' diaries
Louise Richardson was born in Melbourne, Australia but now lives in the small, provincial city of Mantova in the north of Italy. She has been working as an English teacher for over 10 years and teaches in a range of schools, workplaces, ...

Helena is an English-born, Swiss-based teacher and lecturer, specializing in Business English and Cambridge exams. Helena currently teaches English to Swiss teachers of English and young farmers studying Business ...

Meet Chloë Robbins, one of two onestopenglish diarists for 2014-15! Chloë has started her teaching career in Astana, the new capital of Kazakhstan, first teaching at an international school with children between three and 18 years old and now in a language school teaching adults. Chloë arrived in Astana in the ...

Meet Sue, our onestopenglish diarist for the 2013-4 term! Sue taught German and French in UK secondary schools and set up her own tutoring business before turning to ELT. After moving to the Auvergne region of France four years ago, she managed to secure a variety of teaching work, including young ...

Ruth is one of our two onestopenglish diarists for 2012. She has taught English to adult learners for over ten years in Prague, Copenhagen, Dublin and Ulaanbaatar, where she discovered an interest in yaks. In her non-teaching time, she enjoys hill-walking, meditation and socializing with friends. ...

David is one of our two onestopenglish diarists for 2012. He was born in Manchester, grew up in Wales and ended up in London. David has been teaching English for seven years in the UK and Spain and currently teaches a range of classes at British Study Centres. When he's not teaching, David is ...

Stephanie Earnshaw returns to teaching in this continuation of our series of teachers' diaries from The Kingdom of Bhutan. She starts off in two schools and a university, as well as taking over from Shiriin Barakzai as ...

Amanda is a US Peace Corps volunteer. She teaches English as a foreign language in Teteven, Bulgaria.

Amthal Karim is an English literature graduate educated in London but now living in Sheffield. She teaches evening classes at Sheffield Hallam University.

At the time of writing this diary, David was a recently CELTA-qualified teacher working in a small friendly language school in London, teaching a three-hour advanced class four times a week and a three-hour conversation class on Friday.

Laura moved to the Czech Republic shortly after graduation, and started working for a small language school in Prague. At the time of writing this diary, she was in her second year as an English teacher.

At the time of writing this diary, Liana Kokkaliari was working as an English language teacher in state primary schools in Crete, Greece.

At the time of writing this diary, Lynda Ross had just undertaken a six month voluntary placement in Siem Reap, Cambodia.

At the time of writing this diary, Maria Alamanou owned and ran a private FL school in Athens, Greece, where she also taught full time.

At the time of writing this diary, Melissa Briggs had been teaching English for 15 years and was living in Switzerland. She was working online, teaching at a local private school.

At the time of writing this diary, Saul Pope was the Director of Studies for a private language school in St Petersburg, Russia.

At the time of writing this diary, Shiriin Barakzai accepted an unexpected invitation to teach monks English at a local monastery in Nalanda. She tells us all about teaching in this unique situation in this diary for onestopenglish.

At the time of writing this diary, Simon had taught in the South-West of China for 11 months and was just about to start a further six-month contract. The city he was living in rarely receives Western visitors so his diary often takes in the experience of being a bit of a star attraction.

At the time of writing this diary, Vicky was an ESOL teacher in Vermont, USA.

At the time of writing this diary, Willow lived and worked in a hotel resort complex in the Maldives.