Search widget
Enhance your website or blog by adding our Search widget, giving your visitors direct access to thousands of ELT resources on onestopenglish.
What is the onestopenglish Search widget?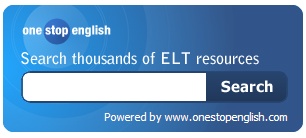 The onestopenglish Search widget is a search box that you can embed into your own blog or website which lets your visitors search the 8,000+ resources on onestopenglish directly through your site.
When the user enters a keyword and searches for an ELT resource through the widget, a new window will open, displaying the search results from www.onestopenglish.com.
What do I need?
Installing our Search widget on your site requires the following:
ability to edit the HTML source of your webpage
ability to upload the edited page to your server
please note that your webpage must contain a DOCTYPE header. For more information, click here.
What do I do?
Step 1: Add the widget to your webpage
To add the onestopenglish Search widget to your site, copy the code in the box below and paste it into your web or blog page at an appropriate location in the body of the HTML.
Step 2: Upload the new page
Once the code is added to the HTML of your page, upload the new page to your server.
Step 3: Test the widget is working
Enter 'business' in the search box and click Search. A new browser window should open containing the content search results from onestopenglish.
Can I change the size or customize the widget?
The optimum size for our Search widget is 300px wide. However, it is possible to increase the width of the widget up to 600px to fit your site's requirements. You can do this by editing the width value in the code above (e.g. change '300' to '400') and the Search widget will expand to fit.
For any other queries, please Contact us.