IATEFL 2016 report: Michelle McDonnell-de Graaf
Back in Holland, onestopenglish's 2016 IATEFL Scholarship winner Michelle McDonnell-de Graaf reflects on her trip to Birmingham for a hugely successful talk and a fascinating and varied conference.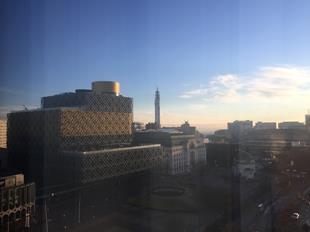 The ICC in the early morning Birmingham sunshine!
The Journey
"I've won??? I've won!!!", I thought. "I'm going to Birmingham!! But wait… What on earth do I know about Birmingham?"
Well, to begin with I knew it was enormous: the second biggest city in England. I knew the Balti dish was created in Birmingham and I had heard the Brummie accent while watching television, but I hadn't really thought much about the city before winning the scholarship. However, always the open-minded and eager-eyed traveller I set off on my great adventure to see the city and discover IATEFL.
Arriving in Birmingham, the first thing that struck me was the architecture around the International Conference Centre (the ICC). It was big, some was modern, some was old, and it was amazing. Behind the ICC I was surprised to find canals (Birmingham has more canals than Venice) and later I found out that the library situated next to the ICC was designed by Dutch architects, maybe one of the reasons I felt so immediately at home!
And I did feel at home. The atmosphere at the conference was friendly and welcoming. A definite highlight was being able to talk openly and passionately and discuss teaching and professional development with so many different types of people. Even though we all came from completely different backgrounds, we all shared the same passion for teaching and English.
The Conference
The workshops and lectures were plentiful and varied, the only difficulty being which session to go to. I saw talks and workshops on a plethora of subjects from Informal Learning in Teacher Development, to Yoga in the Classroom (in Ecuador), from Learner Autonomy (in Irish primary schools) to Teaching Literature (in a Egyptian business school). What surprised me was the relevance of many of these talks to my own teaching context. What I've taken away with me was how many teachers/researchers around the world face similar problems to me and it was great to see how they dealt with these and found possible solutions. Another plus point was the mix of academic research based talks and 'real life teaching' talks which added to my experience enormously.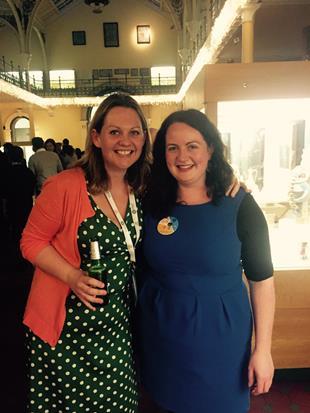 With Sarah Milligan at the OSE party
I was very lucky to be able to give my own workshop entitled "Are you choosing the right digital tool for your classroom?". At first, admittedly, I was a little intimidated but I soon got into the swing of it. The really lovely thing was that everyone was so positive and friendly. The talk went brilliantly and even a couple of days after the workshop people were still coming up to me and asking questions and taking my picture!
The Party
It wasn't all work and no play though. I was invited to onestopenglish's 15th birthday bash at the Birmingham Museum and Art Gallery. What a place to have a party! Amongst the discussions, drinking, dancing and delicious cupcakes, I was able to spot pre-Raphaelite paintings, cases filled with taxidermy and the Archangel Lucifer. Not the usual party goers I'm used to encountering!
So, to anyone considering applying for a scholarship or coming to the IATEFL conference, I would wholeheartedly recommend doing it. It is such a valuable and unique experience. One moment you're being humbled by a wonderful presentation, the next you're being uplifted by an insight from chatting to a fellow ELT professional. I have been to a few conferences before but never one that has given me so much energy and inspiration. Thank you onestopenglish for a wonderful experience!