IATEFL 2015 report: Aysen Deger
Aysen Deger, winner of our IATEFL 2015 scholarship, reports back on Manchester and her favourite talks. 

It has been over a month since I came back from Manchester, IATEFL 2015, but my mind is still there full of teaching ideas and wonderful memories. My friend Sinem, who also attended the conference, and I are still taking about the fruitful experience we had at the conference. Let me share with you what I've brought home from Manchester.
Sight-seeing moments in Manchester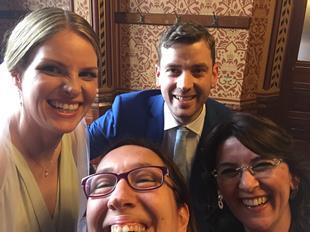 Wedding crashers!
Not the weather, of course. Manchester was cold for a person living on the west coast of Turkey. But, we were lucky to see the sun smiling at us from above for some time, which helped us to visit the wonderful Manchester Cathedral, spend some time in St. John's Garden and have dinner in a restaurant in Piccadilly Garden. We enjoyed surprising moments in some places we visited. In the charming Town Hall we crashed a wedding! We followed the beautifully-dressed guests to the second floor where they were gathering for the ceremony. The groom was so polite to let us in with our jeans on when we asked for permission. We watched the whole ceremony at the back holding our red IATEFL bags.
We should also thank the rainy weather on Sunday afternoon, which made it possible for us to go back to our childhood in the People's Museum. As we did not have an umbrella, we got stuck in the museum and spent some time creating our own badges with the kids there. I am still carrying the badges pinned on my bag.
I'd also like to mention the National Football Museum where all the teachers 'went mad' in Macmillan's party. We all celebrated 150th anniversary of Alice in Wonderland drinking, dancing and having our photos taken with Mad Hatter.
Inspiring Sessions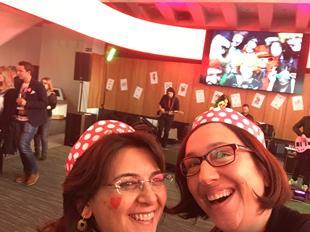 The Macmillan party!
Of course, the ideas from the workshops and talks are the most precious things I have brought form IATEFL 2015. The Teacher Training and Education pre-conference event I attended provided an opportunity to see that 'I'm not alone': Teacher-trainers from around the world have similar difficulties and concerns in the training process. It was also a thought-provoking event in the sense that we not only tried to explore trainees' beliefs but also had a chance to have a critical look at our own beliefs and practices about teacher training. The practical techniques on making trainees' beliefs 'visible' are the ideas that I am taking on board.
Radmila Popovic's session The artsy side of teaching in which she suggested teacher training activities borrowed from formal art education was also inspiring. I had never thought that the way artists were trained could be transferred into teacher training. In one of the activities, Radmila had the participants create a robot watching them during teaching and think of what it looked like and how it would help us. This, I think, was an amazing self-awareness tool for teachers, a robot being our 'third eye'. It reminded me of the mirroring technique we use in psychodrama through which the participant looks at herself in a situation from outside for self-awareness and re-enter the situation to make the changes she would like to do. I believe taking our robots with us to every single lesson will give us better opportunities for self-reflection.
Jazz and the dark matter of teaching. This was Adrian Underhill's stimulating session in which he draws parallels between improvisation in jazz and in teaching. His main argument is that even though we, teachers, make lesson plans before we go into the classroom, most of the things that happen there are based on our improvisation because we teach in 'here and now'. The cardinal rule he suggests for improvisation, 'accept the offer', highlights the importance of teacher's spontaneity in responding to the student's behavior. Adrian showed very good examples of this in his Pronunciation Skills workshops at the Macmillan stand during the breaks. Instead of directly correcting the student's response himself or simply rejecting it, he invited the others to examine the responses. After Adrian's session, I had a closer look at my own ways of responding to the students and realized that my spontaneity had developed through experience. Although I agree that experience is necessary to become spontaneous in class, I also realized that we do not need to wait for a long time in teaching to develop spontaneity. We, teacher trainers, can start working on it even in pre-service training sessions and besides helping our trainees to prepare good lesson plans, we can try to find ways of helping them to improvise in the classroom.
For the last three years, working on pronunciation both in teaching and training has been the area I have been focusing on most. Robin Walker's talk Pronunciation – (m)other tongue tied and Luke Meddings' People, pronunciation and play are the two sessions I'd like to mention here. The first one gave me ideas on how to make use of L1 in a monolingual class: Start with what the students can already do: Use the sounds in their L1 and then make some variations in L2. I am trying to combine this idea with what Luke suggests: Help the students to 'let it go'. Get them to play with pronunciation in different roles with different body expressions. This even involves pronouncing certain expressions with their L1 accent. What I like in both sessions is the idea of respecting the students' L1 identity and building on it.
The Future
I'd like to thank onestopenglish for creating such an opportunity for me to attend the conference. With all the fresh ideas and memories, I am now more motivated to teach and prepare training sessions. IATEFL 2015 gave me a chance to check whether I'm on the right track both as a teacher and a trainer and also triggered creative ideas to add to my repertoire. I am happy to see that employing the techniques of psychodrama in ELT has a lot in common with the artsy side of training and being spontaneous in the lessons. I will continue to use psychodrama both in teaching and in training sessions, giving more focus on pronunciation. My next step will be conducting a workshop in IATEFL conference in the future. In 2015 IATEFL attended workshops and took great ideas. Now it's my time to give.