IATEFL 2014: Report
Onestopenglish scholarship winner, Cynthia James, reports on her best bits from IATEFL 2014, including a nerve-wracking poster presentation and some thought-provoking plenaries.
A few days after I returned from Harrogate, a friend of mine asked, "Does it all seem like a distant dream now?" I think that describes my feelings perfectly. Looking back, I find it a bit hard to believe that I made it to IATEFL. It does actually feel like a dream now, but it is an amazing dream that I wish I did not have to wake up from. It was my first IATEFL and my first time away from my home country. It was an amazing experience that I will definitely cherish forever.
My experience at the pre-conference event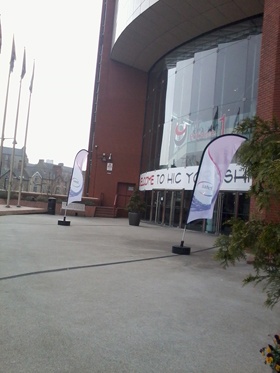 My IATEFL experience started on April 1st at the pre-conference event. I attended the IATEFL Research SIG PCE and did a poster presentation. In my poster, I tried to explore how students can have more say in the classroom by letting them decide what and how they want to learn. I also talked about how teachers can bring passion and interests into the classroom – both theirs and their students' – and turn these into creative and meaningful language learning. I realized how experienced the other presenters were in the field of research, so it made me very nervous. But I went on with my presentation in spite of it all and I am glad I did. I received encouraging feedback from the audience and positive commentary from Dick Allwright, one of the invited experts. It was a truly wonderful learning experience.
Through the event, I learned a lot of valuable things about research. One of the things that I learned was that research should not be something done only by academics in ivory towers. I learned about the need for teachers like me to be more engaged in research and how it could help me improve my classroom practices.
Focus on Young Learners and Teenagers
The main conference began on April 2nd. I teach in a primary school, so I decided to spend my time at the Young Learners and Teenagers SIG day to get some tips and be inspired. The first session was 'Taking storybook lessons further through art, drama, sport and yoga' by Nicky Francis. She talked about how teachers in Paris go one step further in using authentic storybooks to teach English to children by tapping into the young learners' natural curiosity, imagination, creativity and energy. I thought it was an inspiring session and I could not wait to go back and try the activities out with my students. Best of all, I was one of the lucky people in the audience who got a copy of children's storybook 'Wolves' by Emily Gravett for free!
I found Sandie Mourao's session on 'Learner autonomy through free play in pre-primary English' equally inspiring. She shared how play can support development in the target language by providing children with opportunities "to experiment and choose, make mistakes, make choices and take decisions and become autonomous learners." Another great session that I would love to highlight is 'How does grammar fit into a primary-sized head?' by Dave Tucker. He invited us to take a look at a child's brain and examine the processes that go on in it in the primary-school phase of their language learning. Tucker discussed classroom approaches that make the "brain processes" more efficient, and practical activities that can help combine the processes and approaches to make learning more engaging and effective.
I continued with my focus on young learners and teenagers throughout the conference. One session that I found particularly interesting was '21 tips to be a 21st century teacher' where Merve Oflaz demonstrated some student-centred activities that incorporate fun into the classroom. Oflaz made the audience get up, move around and engage in various activities that I thought would be fun to do with my students. I also attended a very eye-opening session on 'Chilean young learners' perspectives on their EFL lesson', where Maria Jesus Inostroza revealed the findings from interviews with a group of primary school learners. In that one-hour session I learned a lot about how children perceive learning – their likes, dislikes, personal satisfaction, perceived value of learning English and their idea of an ideal lesson. The knowledge and information that I had gathered made me think and reflect on my own classroom practices and the learning experiences that I have offered my students throughout the years.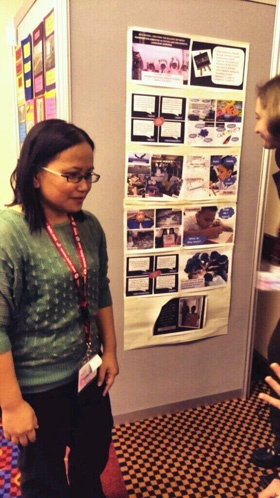 Inspiring plenary sessions
The conference had also given me the chance to be inspired through talks given by big names in the ELT world. One of the plenary sessions that I found most inspiring and memorable was 'The efficiency of inefficiency: an ecological perspective on curriculum'.  In the session, Kathleen Graves highlighted the fact that many teachers are caught between needing to use time and resources efficiently and acknowledging that learning a language is a process that takes time. It is an issue that many teachers, including myself, are grappling with. To deal with the dilemma, Graves proposes an ecological perspective on curriculum that focuses on growth and development. According to her, the best learning experiences often take place when teachers focus more on who the learners are and not just what they must learn.
Sugata Mitra's 'The Future of Learning' plenary session was perhaps the most talked about session of IATEFL 2014. His session has prompted various responses and provoked discussions and debates on social-networking channels and ELT blogs. I was fascinated with his 'hole in the wall' experiments where he put computers in the slums of India and let children play around with them. The findings from these experiments show that groups of children with access to the Internet can learn anything by themselves! Mitra's session has sparked a lot of debates on the issue of obsolescence of teachers and the role of technology in children's learning. Personally, what the session had done to me was to prompt me to think of my role as a teacher in the 21st century classroom. I do not believe that teachers would ever become obsolete, but I would agree with Mitra that there are certain things about teaching and the education system that should be changed. I think Mitra's sentiment about education can best be summed up with this quote by Alexandra K. Trenfor: "The best teachers are those who show you where to look, but don't tell you what to see."
What's next?
I am home now, thousands of kilometres away from Harrogate. As much as I would like to stay in my dream, I have to wake up now and get back to reality. After attending many sessions and experiencing a lot of things at the conference, I find myself directing my focus and energy towards further exploring the subject of learners' autonomy. I am also working on understanding my role better as a teacher in the 21st century. The conference experience affirms my belief that in the future, education as I know it today may no longer be the same. In order to remain relevant, as a teacher I have to be open to new ideas and keep abreast with the latest developments in the education world.