So long and thanks for all the fish (and chips)!
Reporting from IATEFL 2011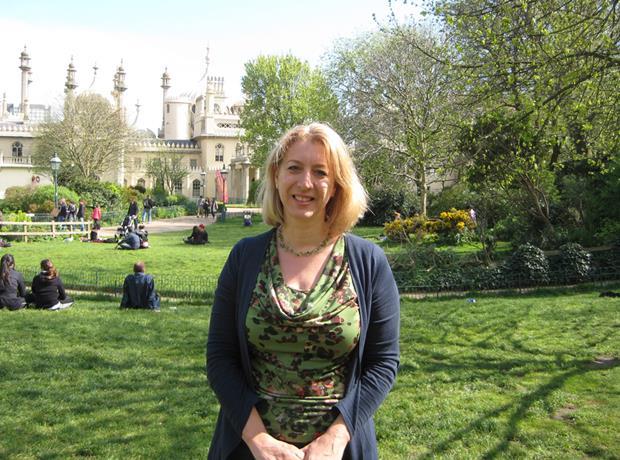 Onestopenglish roving reporter Karen Richardson gives the low-down on the 45th Annual IATEFL Conference and Exhibition in Brighton, ELT's biggest calendar event of the year. She talks about her personal highlights of the conference with snippets from some of the sessions she attended, and gives some essential tips and advice for future first-time delegates.
What is IATEFL?
IATEFL stands for the International Association of Teachers of English as a Foreign Language. Its mission is to link, develop and support English Language Teaching professionals throughout the world. One of the most successful ways it does this is through its annual conference which takes place over five days each spring.
ELT author and storyteller Andrew Wright once likened IATEFL to a global village; after having attended the conference for the fourth time, I know exactly what he means.
Where was this year's conference?
The 45th annual IATEFL conference took place this year in Brighton, a popular seaside city on the south coast of England, 55 miles south of London. The talks, workshops and other sessions were held for the most part at the Brighton Centre, but also at the Old Ship Hotel and a couple of other nearby locations.
What was the buzz?
At the time of writing, IATEFL has not yet published the official figures, but there was highly believable talk of over 2,000 delegates attending the conference from more than 70 countries. With the sun glittering off the sea, and unseasonably warm temperatures, it was sometimes hard for delegates to drag themselves away from a multitude of enticing seafront cafés and sights, but when they did, they found it was well worth the effort.
Each IATEFL Special Interest Group (SIG) holds its own pre-conference event (PCE) and organizes the conference into special 'tracks' which help delegates decide which talks are relevant to their own teaching situation and specialist field of ELT. This is incredibly helpful from a personal development point of view, but clearly the 'big names' in ELT are what or who most delegates are there to see.
My personal highlights
In chronological order, the first workshop I attended was appropriately held by the Guardian Weekly newspaper, whose editors gave us insights into how they decide which articles go into a weekly newspaper and how to effectively use these in class. Onestopenglish, of course, does this for you, and you can find ready-made lesson plans here.
From there I moved into the packed auditorium where highly respected grammarian Michael Swan held an enlightening talk about reading and grammar and how newspaper headlines are often incomprehensible to students. He showed us how reduced relative clauses, e.g. thief caught in place of the thief who was caught, make it difficult for students to decode the language, and provided us with ideas to help us sensitize students to this kind of structure.
"Provide a model by being a good listener yourself."

JJ Wilson
Unknown to me until this year, JJ Wilson proved himself to be a fantastic speaker in his talk 'Great speakers need great listeners'. He explained how important it is for us to teach listening strategies to students and provided us with 12 helpful strategies to try out in class. His message, ultimately, was that we should all "Provide a model by being a good listener yourself".
An unplanned highlight was the ever-popular Jim Scrivener, whose workshop I stumbled into accidently after meeting a colleague, asking what she was attending next, and deciding on the spur of the moment to join her. He talked about reading in the digital age and challenged us to decide whether we have lost the ability to concentrate on reading and simply to lose ourselves in a book. He introduced us to the term 'power browsing', and discussed whether we read the same way on the internet as when we read books. He concluded that although book reading has fallen in the past decade, we are actually reading more on a day-to-day basis – it's just that this reading takes place online.
There is never a dull moment at an IATEFL conference as the evening programmes prove. Following on from Onestopenglish's 10th birthday party on Saturday evening (see below), Sunday evening saw this year's Pecha Kucha evening hosted by Jeremy Harmer. This is a popular event in which eight brave speakers take to the stage, one after the other, to talk for approximately six minutes while keeping pace with their 20 PowerPoint slides which change automatically every 20 seconds. Highlights this year (for me) were Bethany Cagnol, Alan Pulverness, JJ Wilson (again) and Petra Pointer.
Onestopenglish's 10th birthday party
Over the past few years, Macmillan Education's party has become an anticipated fixture at each IATEFL conference; this year was no exception. All conference delegates were invited to the Honey Club on Brighton seafront to celebrate onestopenglish's 10th birthday. Throwing a party for so many guests is always a risky business but, this year, everything that could go right did go right.
The genial location of the venue, across the road from the conference centre, down the steps and onto the beach promenade, ensured a large attendance, as did the promise of wine and finger food and entertainment from the south coast's best Elvis impersonator! Those who were not into rock 'n' roll or dancing could sit outside and either network or simply contemplate the backdrop of Brighton Pier and the evening sun setting over the English Channel.
A couple of comments heard from delegates about the party were "brilliant" and "awesome".* You can't ask for better than that!
* A quick matching exercise: which comment was made by an American and which came from a Brit?
Tips for future or first-time delegates
The number of talks, workshops, symposiums and other events on offer over the period of the conference really is mind-boggling and so it is essential to skim the programme before the conference actually starts.
Equally important is remembering to pace yourself. No one can attend eight or ten talks a day and still retain very much of the worthwhile input after three or four days. This year I decided to attend a maximum of four or five sessions a day. These I chose a week beforehand on the basis of 1) What I thought would be useful for my own professional development, and 2) That they were well-known speakers talking about generally interesting topics. Building in a certain degree of flexibility will also make your conference life easier and/or more interesting (see Jim Scrivener comment above).
If at all possible, stay in a hotel that is situated near to the main venue. This not only makes it cheaper, quicker and safer to get back to your place of rest after an evening event, it also gives you a unique opportunity for some breakfast networking!
Attend one of the pre-conference or association events which are usually held on the day before the main conference. I attended the Business English SIG's pre-conference event but was equally tempted by that of the Teacher Development SIG. Attending a PCE ensures that you meet up with like-minded people who share your area of ELT interest and who you are likely to meet up with again and again during the main conference.
Join a discussion group before travelling to the conference. The Business English SIG's Ning group was buzzing in the weeks leading up to the conference with delegates exchanging information about where they were staying and where and when they could meet up for a meal or drinks.
And don't forget to pay a visit to the exhibition. This is where you'll find out about all the latest and greatest ELT products and services on the market – and you may even pick up a few bargains while you're there.
If you can't attend
Of course, an international conference does not necessarily fit into everybody's schedule or budget. However this is no reason to despair or feel left out. IATEFL, in association with the British Council, run IATEFL Online which features live coverage from the conference, as well as interviews with presenters, conference delegates' reports and moderated discussion forums.
Although the figures are not yet available for this year, it is known that over 50,000 teachers from around the world watched the 2010 Harrogate IATEFL Online coverage.
Next year
On a personal note, although I've lived in Germany for many years, I was born and brought up in Brighton, so this year's conference venue was very special indeed. However, next year, I am looking forward to going to the other end of the country, to Glasgow, in Scotland, where the 46th annual conference will take place in spring 2012.
We hope to see you there!
Further information