Happy birthday, onestopenglish!
In 2011 onestopenglish turns 10 and you are warmly invited to join the celebrations …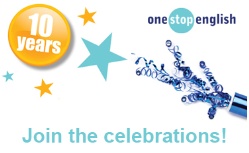 It's our birthday! Whether you are new to the onestopenglish community or you've been with us from the very beginning, we'd love to celebrate this exciting milestone with you.
We've been preparing a variety of events and dedicated initiatives, including our 10th birthday e-book, a special IATEFL workshop on topics chosen strictly by you and, of course, our birthday parties!
Over the next few months we'll be revealing more about the surprises we have in store: keep checking this page to find out more – and don't forget to find us on Twitter and Facebook to be the first to hear all our news.