Happy birthday, onestopenglish!
In 2011 onestopenglish turns 10 and you are warmly invited to join the celebrations …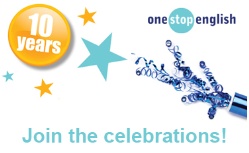 It's our birthday! Whether you are new to the onestopenglish community or you've been with us from the very beginning, we'd love to celebrate this exciting milestone with you.
We've been preparing a variety of events and dedicated initiatives, including our 10th birthday e-book, a special IATEFL workshop on topics chosen strictly by you and, of course, our birthday parties!
Over the next few months we'll be revealing more about the surprises we have in store: keep checking this page to find out more – and don't forget to find us on Twitter and Facebook to be the first to hear all our news.
More birthday news
To accompany the celebrations for the 10th birthday of onestopenglish, we've prepared an e-book with some of our premium resources, hand-picked by our editors across all the content areas of onestopenglish.

Did you know that onestopenglish celebrates its 10th birthday this year? Here at onestopenglish HQ we're very excited, and we kicked off the celebrations in style at IATEFL 2011 with a series of surprises, including a special workshop. All materials used in the workshop are now available for you to download here, just in case you missed out.

What a party! Onestopenglish celebrated its 10th birthday in style at IATEFL 2011. Take a look at our party snaps here …

With the precious help of our local Macmillan offices, onestopenglish has been celebrating its 10th birthday all over the world. Here are some lovely photos of our multiple birthday bashes!