Food
Teach pupils about the basics of nutrition and the importance of a healthy diet in this selection of worksheets.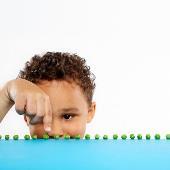 How often should we be eating pasta and rice?

Which foods contain protein?
Which foods come from animals?

Try a FREE sample worksheet on food groups.
Inside Food
This lesson plan will help to teach pupils about the building blocks of a healthy diet. Pupils group foods by their food group and practise using 'there is' and 'there are'. The teacher's notes include suggestions for a fun food game and other follow-up activities to teach about nutrition.

Which foods do we get our carbohydrates, proteins and fats from? Through sentence completion and labelling activities, pupils learn that a healthy diet consists of a balance of these nutritional elements in this lesson plan.

In this lesson plan, a useful food pyramid clearly shows young learners the major food groups. Learners colour different areas of the pyramid, underline food vocabulary and answer true/false questions on what is and isn't good for us.

What are the six main categories of vitamins? Which foods contain them and what do they do for our bodies? Find out by looking at vitamin posters and completing a food diary in this lesson plan.

What foods should go in the fridge, freezer and cupboard? What do we need to make salad, sandwiches, ice cream and cake? (Yum.) Get your pupils to show off their culinary knowledge in these fun group activities.

In this lesson plan, pupils complete a chart deciding which food we get from animals and which we get from plants. A matching and sentence-completion activity consolidates food vocabulary and the key phrase 'come(s) from'.

In this lesson plan, pupils learn about a healthy diet and the origin of different foods while practicing the present tense, expressions of frequency, food vocabulary, time and days of the week.

In this lesson plan, pupils learn about a balanced diet, while practising 'should' and expressions of frequency.

In this lesson plan, pupils study the main nutrients that fuel the body and learn which foods contain those nutrients.
In this section
The Amazing world of food, by Carol Read, is a project for Young Learners designed to simultaneously build up learners' language skills and knowledge of food. The project is divided into six lessons and leads to a final outcome of children creating a group e-zine/magazine with the title 'Amazing world of food'.