Geography
This ever-expanding section of onestopclil contains Geography resources with a dual focus on content and language.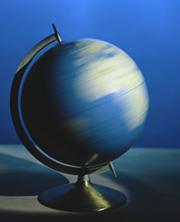 Onestopclil geography resources include:
clear content and language learning objectives
input texts, maps, diagrams and photographs
vocabulary activities, writing and speaking frames
activities that help students apply concepts learnt
detailed teacher's notes
editable wordlists with example sentences
energy animations with worksheets
Most topics are presented at two levels of difficulty reflected in both the level of the language and complexity of the content. New topics will be regularly added to this area. Contact us to let us know which areas you are teaching and would like to see more resources for.

Try these FREE sample geography resources in your next CLIL class: Changes in Tourism in Western Europe, Urbanization and World Population, Renewable Energy Technologies and Geography Vocabulary.
Inside Geography
The new Interactive Atlas on onestopenglish is simple, easy-to-use and flexible enough to offer a wide range of opportunities for teachers to develop awareness of places, countries, regions and continents of the world in a fun and meaningful learning environment.

These worksheets aim to give students an understanding of the types of world economic activities, various types of agriculture and recent issues affecting farming in More Economically Developed Countries (MEDCs) such as the UK.

Activities to encourage students to think critically about the impact of tourism: its benefits and disadvantages for countries, and its promises and pitfalls for travellers.

Through these resources students learn about changing patterns of urbanization, how to interpret data and how to discuss findings in English. Resources include speaking activities with useful language boxes, map-labelling exercises and guided writing tasks.