CLIL Teacher Magazine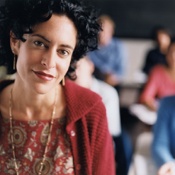 Welcome to the CLIL Teacher Magazine! Become part of the onestopclil community and keep up to date with the latest news, reviews and events in the CLIL calendar. Connect with your colleages and read about CLIL experiences from around the world in Your Perspectives. Let Keith Kelly take you on a guided tour of our resources in his monthly, topic-focused Editorials.
Inside CLIL Teacher Magazine
In this monthly series, Keith Kelly provides a comprehensive lesson plan focusing on both content and language, accompanied by a useful word list highlighting language used in core function areas of different subjects. These lesson plans and word lists are the result of analysis into the language of the content subjects: geography, biology, chemistry and physics.

Keith Kelly provides a monthly report on life at the school for young learners that he has set up in Bulgaria plus the latest developments in the world of CLIL.

Café CLIL is an online forum for small group discussion in SKYPE on specific areas of content and language integrated learning.

Find our what's happening in the world of CLIL and what's new on onestopclil with Keith Kelly.

As part of our quest to provide the best information for CLIL teachers we will publish reviews written by teachers of resources available for CLIL teaching and training.

A list of links to useful CLIL websites, plus our selection of the best YouTube videos on CLIL.

Read about CLIL teachers' experiences around the world! Some of the letters provide an overview of the situation for CLIL teachers in individual countries, and some give a more detailed look at teaching.