M Tunes
Welcome to M Tunes! M Tunes is an award-winning multimedia series for children featuring 60 contemporary live-action and animated music videos. Each video is accompanied by a set of interactive games which are designed to practise and improve the skills, vocabulary and grammar presented in the songs.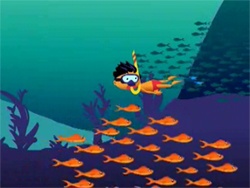 We have included Mac and PC versions of all the songs and games. The best way to use these files is to download them to your computer so that you can use them at any time with your students. To save the files to your computer, simply right-click on the file and choose the 'Save target as' option. Select the folder that you would like to save the podcast in and then click 'Save'.
Some of the M Tunes videos are large files and may take some time to download, especially if you have a dial-up internet connection. If you have any problem downloading or running the M Tunes videos and games, click here to go to the M Tunes help page. 
You will need a copy of QuickTime Player to play the videos. If your computer does not have QuickTime Player, please click here to go to the Apple.com website where you will be able to download the appropriate version for you.
Inside M Tunes
M Tunes song videos at Level 1 include Count with Me, Color Dance and Ready for School.

M Tunes song videos at Level 2 include Happy Birthday!, In My Town and The Months of the Year.

M Tunes song videos at Level 3 include Good Friends, Robot Calypso and Tropical Weather.

M Tunes song videos at Level 4 include Body Rock, Superguy and When I Feel Sad.

M Tunes song videos at Level 5 include Round the World, The Recycling Rap and What are your Hobbies?.

M Tunes song videos at Level 6 include Cook to the Beat, The Aliens are Coming and Underneath the Sea.